The Siegessäule is a victory column in Tiergarten, a large park in the center of Berlin. The column is adorned with mosaics and topped with a gilded allegorical statue of Victory.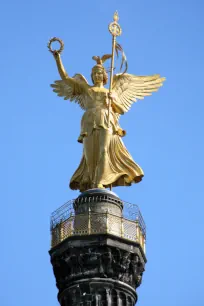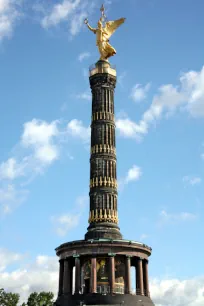 Grosser Stern
Tiergarten is a former royal hunting estate that was turned into a park in the 1830s. Five major roads cut through the park and intersect at a large roundabout that is known as the Grosser Stern (Great Star). The Siegessäule stands in the middle of this roundabout.
The victory column originally stood at the Königsplatz (now Platz der Republik), the square in front of the Reichstag. In 1938 the monument was moved to its current location by the Nazi government as part of a major urban redevelopment plan, known as Germania, that would transform Berlin into the capital of the world.
The Monument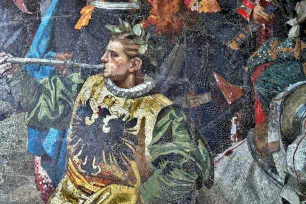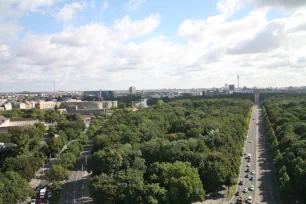 The soaring triumphal column was designed in 1864 to celebrate the Prussian victory that same year in the Prusso-Danish war. By the time the column was finished in 1873, the Prussians had also triumphed over Austria (1866) and, most memorably, France (1871), so the monument's design was slightly altered to also commemorate these victories.
The monument was designed by Johann Heinrich Strack and consists of a wide four-sided base that supports a circular colonnade from which rises a tall fluted column, which is topped with a gilded statue.
The base is decorated with large bronze reliefs that depict scenes from the wars. The colonnade above the base is decorated with a mosaic frieze created by Anton von Werner. It depicts the Liberation Wars and subsequent unification of Germany in 1871. The column originally consisted of three sections, each of which represented a victorious war. Hitler had another 7.5 meter high section added in anticipation of his forthcoming victory. This increased the total height of the monument to almost 67 meters (220 feet).
A spiral staircase in the column leads to a viewing platform at a height of about fifty meters with panoramic views over Tiergarten. Looking eastward, you can see the Reichstag, the Brandenburg Gate and of course the Fernsehturm in the distance.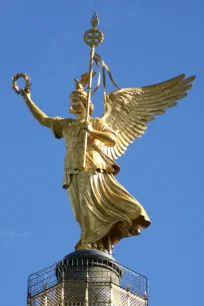 The Statue
The 8.3-meter-tall (25 ft) statue at the top of the Victory Column was added after the Prussian victory over France. The gilded figure, designed by Friedrich Drake, can be seen looking triumphantly towards France.
The statue represents the Goddess of Victory, but Berliners affectionately call her Goldelse. She wears a helmet with an eagle, which means she also personifies Borussia (Prussia). The statue weighs over thirty tonnes, hence she is known as the 'heaviest woman in Berlin'.