The Schloßbrücke (Palace Bridge) was built in the early 1800s and led to the palace that was located on Museum Island. It is considered the most beautiful out of the numerous bridges in Berlin.
The Bridge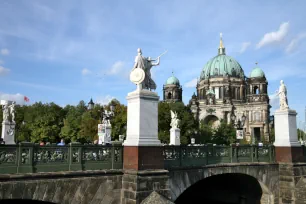 Situated at the eastern end of the Unter den Linden, the Palace Bridge was designed by Berlin's foremost architect of the early nineteenth century, Karl Friedrich Schinkel. Schinkel was responsible for a number of other important buildings and landmarks of the time, including the city's Altes Museum, the Neue Wache, and the Schauspielhaus, all designed in the neoclassical style.
Constructed over a western branch of the Spree River in 1824, the Palace Bridge replaced a wooden structure once known as "The Bridge of Dogs" because hunters gathered there with their animals before setting out on a hunt.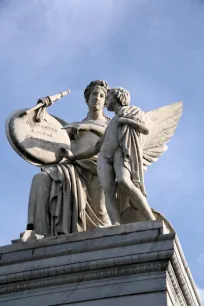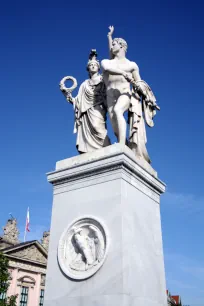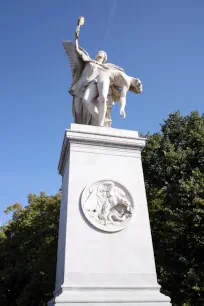 A Work of Art
While the Palace Bridge itself is certainly beautiful, it is the artwork that accompanies the bridge that receives the most attention.
Atop the supporting pillars of the bridge are eight groups of figures fashioned from white Carrara marble, all sculpted between the years 1845-57. Eight different sculptors were chosen to create the masterpieces, following designs suggested by Schinkel himself. They show the development of a hero from early youth to manhood, and then to death on the battlefield and the taking of his body to Olympus.
The statues include: (on the right side as you travel towards Lustgarten)
1) Nike instructs the boy in heroic history – the boy is shown the names of Alexander the Great, Julius Caesar and Frederick the Great (Emil Wolff, 1847);
2) Pallas Athena teaches the boy the art of spear-throwing (Hermann Schievelbein, 1853);
3) Athena arms the warrior for his first battle (Heinrich Möller, 1846-50);
4) Nike crowns the warrior (Friedrich Drake, 1857).
On the opposite side, you'll find:
5) the goddess Nike supporting a wounded warrior (Ludwig Wichmann, pre-1857);
6) Pallas Athena leads the warrior in battle (Albert Wolff, 1853);
7) The hero attacks the enemy, protected by Pallas Athena by his side (Gustav Bläser, 1854);
8) Iris, carrying the fallen hero to Mount Olympus (August Wredow, 1841-57).
Post-war Reconstruction
The bridge was destroyed during the Second World War, but fortunately the statues had been dismantled and stored in a depot. After the war and the division of Berlin, the bridge ended up in East Berlin. The East German government had the bridge, which was renamed Marx-Engels-Brücke, restored in 1950 but without the statues, since the storage depot for the statues was located in West Berlin.
It wasn't until 1981 before the statues were handed over in a deal between East and West. A renovation project was undertaken and by 1984, repairs were complete, and the figures were returned to their rightful places.