A masterpiece of neoclassical architecture, the Neue Wache was originally built in 1818 as a guard house. It now serves as a memorial honoring war victims. Inside is a statue by Käthe Kollwitz.
Guard House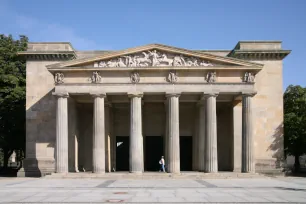 Located at the Unter den Linden boulevard in central Berlin, Neue Wache was originally constructed as a guard house for the Kronprinzenpalais (Palace of the Crown Prince), which was located nearby. Its construction was ordered by King Frederick William III on the occasion of Germany's victory in the Wars of Liberation against Napoleon.
Built between 1816 and 1818, the structure was designed by famed German architect Karl Friedrich Schinkel, who would go on to become the most noted Neoclassical architect in Prussia. Neue Wache was his first major project in Berlin and is considered one of the best Neoclassical buildings in the city.
The building continued to serve as a guard house until after World War I and the subsequent fall of the German monarchy in 1918.
Design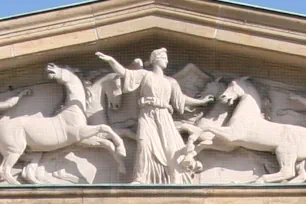 Doric columns grace the front of Neue Wache, not unlike a classical Greek Doric temple. Actually, Schinkel intended its shape to resemble a Roman castrum, a fortified military camp. The building, in accordance with the architect's design, was "free on all sides… with four sturdier corner towers and an inner courtyard".
The building's Doric columns are topped by a frieze decorated with bas-reliefs of the goddess of victory. The pediment on top of the frieze features a tympanum made up of sculptures with allegorical figures representing Battle, Victory, Flight and Defeat.
Rededication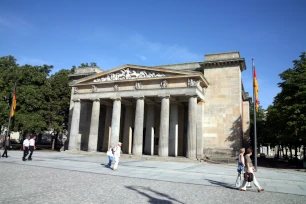 In 1931 architect Heinrich Tessenow was commissioned by the government to redesign the building. It would now be a memorial for German soldiers killed in World War I. The inner courtyard was covered up aside from an oculus (circular opening), resulting in a large memorial hall. Unfortunately, Tessenow's design was heavily damaged at the end of World War II.
In 1957-1960, the building – now located inside the communist-run German Democratic Republic – was repaired and reopened. It was then proclaimed a Memorial to the Victims of Fascism and Militarism. In 1969 an eternal flame was lit in the center of the hall.
Neue Wache Today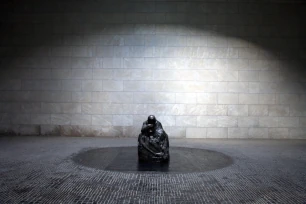 A few years after Germany was reunified in 1991, the monument was rededicated yet again. It now stands as the "Central Memorial of the Federal Republic of Germany for the Victims of War and Tyranny".
A single statue replaced the flame. Dubbed «Mother with her Dead Son», it was designed in 1938 by Käthe Kollwitz – who lost her youngest son in the First World War – as a sort of pietà. The statue in the Neue Wache, which sits directly under the oculus, is a copy and was created in 1993 by Harald Haacke, who made it four times as large as the original.