Built in the eighteenth century for a Prussian prince, Schloss Bellevue was a German architectural first. Today it is the official residence of the German president.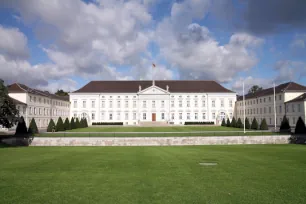 Situated on an area of twenty hectares (about 50 acres) beside the River Spree, Schloss Bellevue ("Belle vue" meaning beautiful view in French) was built for Prince August Ferdinand of Prussia, the younger brother of King Frederick II of Prussia. It sits on the north edge of the large Tiergarten park and served as the Prince's summer residence.
Architecture
The sparkling white home was designed by architect Philipp Daniel Boumann and has the distinction of being the first Neoclassical building constructed in Germany. It consists of a two-story main building, quite elaborate in design, with a central pediment supported by ornate Corinthian columns. The gables feature sandstone figurines depicting Agriculture, Fishing and Hunting. In contrast, the two wings – named "The Ladies' Wing" and "The Spree Wing" – are quite plain.
Inside, there's a breathtaking ballroom, designed and completed in 1791 by architect Carl Gotthard Langhans. It is currently used for official government receptions, but was the site of many magnificent parties during the nineteenth century.
History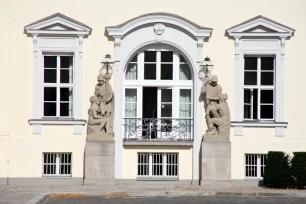 From its construction in 1786 until 1918, Schloss Bellevue served as a royal residence. After the First World War, it served a number of purposes, including space for an ethnology museum and as a "guest house" for the Third Reich.
Towards the end of World War II, Schloss Bellevue was heavily damaged. Renovations on the building began in 1954 and were completed in 1959. At that time, it became a secondary home to the president of West Germany, who usually resided in an official government residence in the capital city of Bonn.
Further renovations took place in the mid-1980s and after the reunification of Germany, Schloss Bellevue became the primary residence of the president and remains so. His office building is situated in the park behind the main residence and is not accessible to the public. Another oval-shaped modern building to the south houses the president's staff.