One of Berlin's newest government buildings, the Bundeskanzleramt is a striking modern building, contrasting with nearby historic landmarks.
Designing the Chancellery Building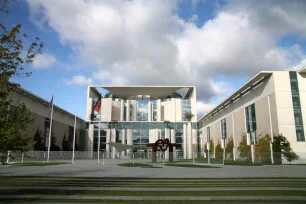 The modern Expressionist-style Bundeskanzleramt is one of a complex of buildings situated around the Reichstag, the seat of the German Parliament, built to house government institutions following the relocation of the German capital from Bonn to Berlin between 1991 and 1999.
In 1994, German architects Axel Schultes and Charlotte Frank won a government-sponsored contest which granted them the privilege of designing the new chancellery. Then-Chancellor Kohl took a keen interest in their design and was said to have kept a close eye on the plans.
Design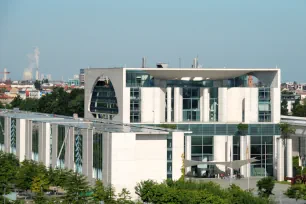 Completed in 2001, the core building and the north and south administrative wings of the Bundeskanzleramt form three sides of a ceremonial courtyard.
Costing more than 230 million euro, the chancellery building stands nine stories high in the center (the executive building) and the wings are each five stories high. The tallest point measures about 36 meters (118 feet). The design of the building has been referred to by some as Oriental in style. A series of freestanding white columns frame the entrance, with huge pear trees growing atop some of them. The underside of the white concrete roof is curved and a unique tensioned awning is situated over the entrance.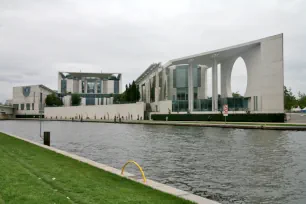 Windows are everywhere, giving the inside a bright, airy feeling. A sweeping interior circular staircase, the centerpiece of a three-story promenade, leads to banquet rooms, conference areas, and the Chancellor's office.
Unfortunately, due to security measures, only politicians and government employees are allowed inside the Bundeskanzleramt. Visitors must be content with snapping photos of the extravagant structure from the outside.