When opened in 1866 as German's largest synagogue, the magnificent and sumptuous Neue Synagogue was the symbol of the Jewish community in Berlin.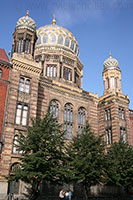 Neue Synagogue
Situated in the Scheunenviertel district (Barn Quarter), it lies in the heart of the then large Jewish district.
Construction
Construction of the 'New Synagogue' started in 1859 and it was completed seven years later.
The design by German architect Eduard Knoblauch, in a neo-Byzantine style with Moorish influences, was complicated by the asymmetrical shape of the plot. State of the art construction techniques were used to construct the synagogue.
Scheunenviertel Revival
During the infamous Kristallnacht pogrom on 9-10 November 1938, the synagogue was desecrated and – like many other synagogues – set on fire by the nazis.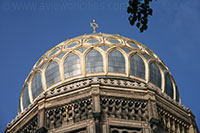 The Synagogue's Dome
It was damaged even more in 1943 when it was hit during an allied aerial bombardment. The building was finally demolished in 1958 – only the front facade was kept intact.
It would take another thirty years before the reconstruction of the synagogue started in 1988. Seven years later, in May 1995, the reconstructed synagogue was finally completed, triggering a revival of the whole Scheunenviertel district. It is now a lively district with many restaurants and cafés.