In May 2005, on the sixtieth anniversary of the fall of the Nazi regime and the end of World War II, the city of Berlin dedicated their Holocaust Memorial, designed to commemorate the murder of six million Jews at the hands of Hitler and his forces.
The Design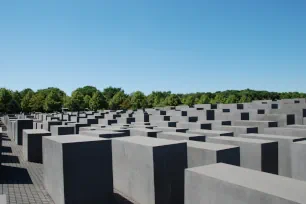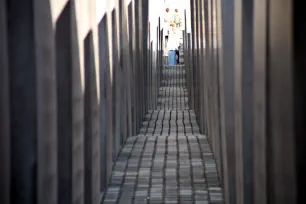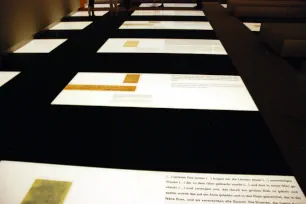 The idea for a Holocaust Memorial was first proposed in 1988, but the design for the monument wasn't approved until 1999. At that time, U.S. architect Peter Eisenman's controversial design was chosen as a fitting tribute to the Jews that died before and during World War II as part of Hitler's plan to exterminate them.
Eisenman's design is quite unique and has drawn both praise and criticism. Occupying about 205,000 square feet (19,000 square meters) of space near the Brandenburg Gate and just a short distance from where the ruins of Hitler's bunker are buried, the Berlin Holocaust Memorial is made up of 2,711 concrete slabs that bear no markings, such as names or dates.
The slabs undulate in a wave-like pattern. Each is a five-sided monolith, individually unique in shape and size. Some are only ankle high, while others tower over visitors. The paths that are shaped between the slabs undulate as well. Eisenman hoped to create a feeling of groundlessness and instability; a sense of disorientation. Most will agree that he succeeded.
Visitors may walk through the memorial in any direction, as there is no set pattern to the stones. The architect has said that he hopes it will merely become a natural part of the city, blending in with its background; used for shortcuts on the way home from work or a place of peace and quiet on a chaotic day.
Visiting the Holocaust Memorial
The Holocaust Memorial, officially named the Monument to the Murdered Jews in Europe, can be visited at anytime – night or day. A subterranean Information Center, located at the base of the memorial, offers stories of families and individuals who faced the wrath of the Nazi party and provides further information about the design and construction of the memorial. The Information Center is open from 10 am until 8 pm.
Other Memorials
Nearby, in the Tiergarten, a large park across the street, are two like-minded memorials. One commemorates the Sinti and Roma who died in concentration camps. The other one commemorates the homosexuals who were persecuted under the Nazi Regime.