Commissioned by King Maximilian II as an institution of higher learning, the Maximilianeum is now the headquarters of the Bavarian parliament.
Building the Maximilianeum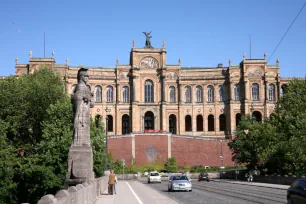 In the mid-1800s, it was the wish of the Bavarian king Maximilian II to "embellish" the city of Munich. Part of his dream called for "an institution of higher learning and teaching". He held a competition to choose the best design for this structure. However, the king dismissed the winning design by Wilhelm Stier and instead gave the project to Friedrich Bürklein, who had assisted him with other plans for city growth.
The foundation was laid in 1857, and between that time and the time of Maximilian's death seven years later, the king changed the plans. Rather than the Maximilianeum being Gothic in style, as Bürklein had planned, the king decided he preferred a Neo-Renaissance design. Much of the central portion of the building required reconstruction. Another obstacle was the sloping terrain along the Isar river, causing problems for the building's foundation. Construction was finally complete in 1874.
The Architecture
The Maximilianeum overlooks the east bank of the River Isar. It was fashioned in three sections: a slightly concave massive center building and two straight wings. Two rows of round arches grace the front of the structure. At the far ends of the center building, you'll see a three-story open tower.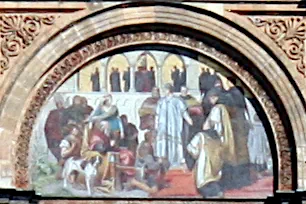 The mosaics on the Maximilianeum are remarkable. The centermost mosaic depicts the "endowment of Ettal Monastery by Emperor Ludwig IV, demonstrating the piety and charity of the ruling Bavarian dynasty". It refers to a monastery founded by the emperor to fulfill an oath he had made. On the north projection, the mosaic represents the signing of the Treaty of Pavia, and on the opposite projection, you'll find a representation of the liberation of Vienna from the Turks. The busts above the first row of arches are of "benefactors, inventors, sages, men of letters, statesmen and military commanders" who left their mark on Bavaria.
The interior is decorated with beautiful nineteenth-century works of art, including about thirty pieces that were commissioned by Maximilian II.