In the eighteenth century, Boston's Long Wharf was at the center of the city's busy maritime industry, stretching from the city's commercial center into the harbor. Today it is part of a popular recreational area.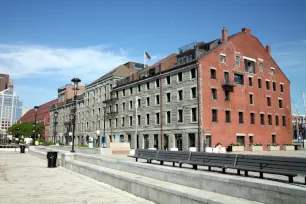 Currently serving as a terminus for ferries and small cruise boats, Boston's Long Wharf was built in 1711 and was, at one time, one of the busiest piers in the country. True to its name, Long Wharf once extended almost 600 meters (2000 feet) into the ocean, allowing the largest boats to take advantage of docking there, thanks to the deeper water at the end of the pier. Warehouses and shops built along the pier were a hubbub of activity.
A Little History
Originally, Long Wharf began near Faneuil Hall, though as the years passed, water areas on the landward end were reclaimed and the wharf became significantly shorter. Several notable buildings sprung up around the wharf, including Quincy Marketplace and the Custom House.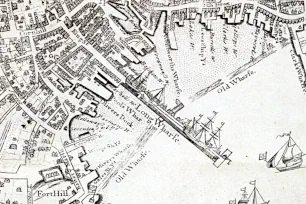 The Wharf was the center of the shipping industry in one of the most vibrant harbors in early America. From here, clippers set sail for Europe, the East Indies, or even China.
In the 1950s, the construction of the John F. Kennedy Expressway served to separate Long Wharf from the central business district, but Boston's famous Big Dig project put the expressway below ground some forty years later, hence restoring access to Long Wharf, which is now a thriving cultural and recreational area.
Today's Long Wharf
Today, clipper ships have been replaced by ferries and sightseeing boats. Ferry services heading to Provincetown, Logan Airport and the Harbor Islands National Recreation Area depart from the pier. Several small cruises also commence at Long Wharf and educate passengers on the history of the harbor.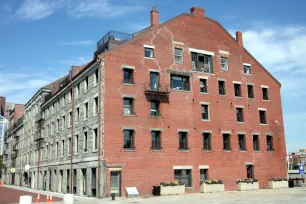 The Custom House Block, a historic warehouse building from the mid-nineteenth century, is a relic from the heyday of the Boston Harbor. The adjacent Gardiner Building is even older; it was built in 1760. The wide esplanade at the end of the pier offers great views of the harbor. From here, you can also see planes take off from Logan Airport.
The modern red brick building at the other end of the wharf is home to a Marriott Hotel, which boasts a fine collection of harbor-related artwork in the area of its second floor lobby. Guests can peruse ship models, paintings, and other documents and artifacts that provide a look at the history of Long Wharf and Boston's maritime legacy in general.
Walk to the Sea
If you're exploring the city, and you find yourself on the Norman B. Leventhal Walk to the Sea, which begins at Beacon Hill and cuts right through the heart of historic Boston, you'll wind up at Long Wharf when you reach the end of your trek. The walk spans one mile (1.6 km.) and descends 100 feet (30 meters), passing numerous historic landmarks and buildings before reaching the wharf.