Faneuil Hall, a historic building in Georgian style, is the center of Boston's Faneuil Hall Marketplace, a popular area with food stalls, restaurants, shops and street entertainment.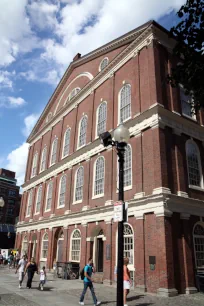 History
Faneuil Hall was originally designed in 1740 by John Smibert. The brick, two-story building in Georgian Style was funded by a wealthy French merchant, Peter Faneuil, who donated it to Boston. The building was completed in 1742, but burnt to the ground only nineteen years later. It was rebuilt following the original design in 1763.
Cradle of Liberty
The first floor of the Faneuil Hall served as a marketplace, the second floor contained a large meeting hall which was first used for town meetings in 1764. This is where Samuel Adams and fellow revolutionary colonists gathered and protested the 'taxation without representation'. The many meetings held by American patriots between 1764 and 1774 gave Faneuil Hall the nickname 'Cradle of Liberty'.
Expansion
By the beginning of the nineteenth century, the hall had become too small for the fast-growing town. Charles Bulfinch, best known as the architect of the Massachusetts State House, expanded the building between 1805 and 1806. Bulfinch doubled the building's width and added a third floor.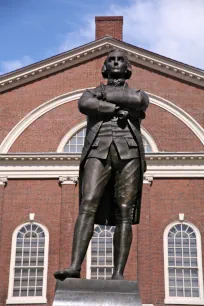 After Boston was incorporated as a city in 1822, the meeting hall wasn't used for town meetings anymore, but it continued to be the city's most important meeting hall well into the next century.
Renovation
In the early 1970s, the Faneuil Hall and Quincy Market, an 1826 expansion of the Faneuil Hall market, had fallen into disrepair. The buildings were slated for demolition, but architects were able to convince the government to renovate the historic buildings. In 1976 a large urban renewal project transformed the whole area around Faneuil Hall into a modern urban marketplace with a host of shops, restaurants and food stalls. The area, known as 'Faneuil Hall Marketplace' comprises Faneuil Hall, Quincy Market, North Market and South Market and attracts over twelve million visitors each year.