Established in 1969, the New England Aquarium is considered one of the finest in the northeastern United States. The goal of the aquarium's founders was to create "an underwater experience for the visitor and to serve as a cultural institution that would reconnect Boston to its waterfront".
Through the Years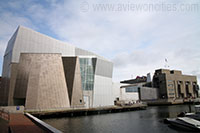 New England Aquarium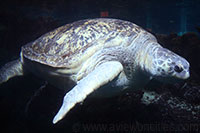 Sea Turtle
The New England Aquarium attracted nearly a half million visitors during its first year of operation. One of its premiere attractions was its Giant Ocean Tank, opened in early 1970 as the largest circular, salt water tank in the world at the time of its construction. Visitors flocked here to see Myrtle, the green sea turtle, who still remains a resident of this enormous tank.
In the mid-1970s, the aquarium began a program dedicated to responding to stranded marine mammals in the New England area. Visitors could now enjoy sea lions and dolphins in addition to the other sea life on display at the aquarium.
The 1980s saw the addition of the Northern Waters of the World gallery. "Boston Harbor: The Place, the Problem, the Plan" became a permanent exhibit in the Boston Harbor View Room as well.
In the mid-1990s, the New England Aquarium broke ground for a new West Wing, which was completed in 1998. The facility also opened the new Aquarium Medical Center to the public, which gave visitors an inside look at animal care. A larger gift shop and café were also added.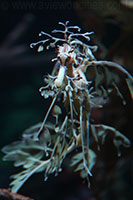 Leafy Sea Dragon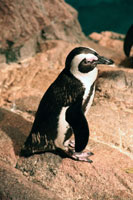 Penguin
The millennium brought the addition of the Immersion Interactive Theater and the six-story IMAX 3-D Theater, the only one of its kind in the area.
Today's Aquarium
The New England Aquarium remains bigger and better than ever. The three-story building is home to a host of enticing exhibits including a penguin area, a fresh water gallery, a tropical exhibit, a jellyfish display, an interactive gallery for young children and their parents, and much more.
The aquarium also boasts a harborside learning lab and organizes whale watching cruises for interested visitors. A teacher resource center is available as well.
The Harbor View Café serves a variety of foods for a quick bite to eat, including delicious Boston Clam Chowder. There's also an outdoor café in season.