Also known as Old Ironsides, the USS Constitution assumed several important roles in the history of U.S. warfare.
About the Ship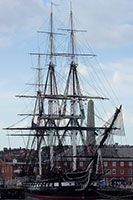 USS Constitution
Launched in 1797 after being built at Hartt's Shipyard in Boston, the USS Constitution was designed to be a fast and powerful warship. It cost more than $300,000 and 2,000 trees to build this new kind of ship, but the USS Constitution would prove to be worth every penny.
Put to sea in 1798, Old Ironsides is the oldest commissioned warship afloat in the world, and during the years since she left Boston for the first time, she has seen plenty of action. She was the flagship of the Third Mediterranean Squadron in the early nineteenth century and the protector of the U.S. merchant shipping industry.
The ship's bow
She fought in the War of 1812, where she earned her famous nickname 'Ironsides' when cannonballs from the British ship Guerriere bounced off the side of the ship. During its long career, the USS Constitution won an amazing 42 battles and lost none.
During the nineteenth century, several refurbishments saved the ship from the scrapyard. At the end of the nineteenth century the warship becomes an important training ship for Navy personnel, first at Annapolis, MD later at Philadelphia, PA and Newport, R.I.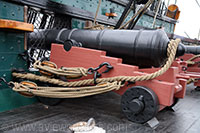 Canon on the upper deck
Her official duties ended by the turn of the twentieth century, and the USS Constitution returned to Boston, where the ship remains today. Though Old Ironsides has been renovated, refurbished, and repaired many times, this ship remains a symbol of America's rich naval history.
Visiting the Ship and Museum
Visitors to the Boston area can head to the USS Constitution any time of the year and enjoy a tour of this grand sailing ship. Though it doesn't take long to tour the USS Constitution, guests of all ages will enjoy viewing the ship from on board.
As the ship is a national landmark, special security procedures are in place. Visitors should expect some delays to get through security before boarding the ship.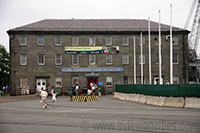 USS Constitution Museum
As an added bonus, guests may want to visit the nearby USS Constitution Museum, which educates visitors as to the history and relevance of this majestic ship. Special events are held here often and representatives from the museum and the U.S. Navy travel around the country bringing the story of Old Ironsides to school children in all fifty states.