One of the last remaining classic ballparks in baseball, Boston's historic Fenway Park has gone through many changes and additions since it opened, yet it still retains the charm of a bygone era.
The Early Years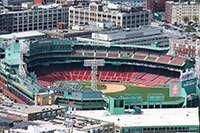 Fenway Park
The design for building Fenway Park was conceived around 1910 when team owner John Taylor decided that his Boston Red Sox players needed a better and "less embarrassing" place to play the great American pastime.
Construction on Fenway Park, in "The Fens (marshes)" of Boston, began in 1911, and after two days of rained out games, the stadium opened on April 20, 1912, less than a week after the sinking of the Titanic. The stadium's unusual shape and relatively small size was determined by the surrounding streets, which predate the structure.
Early Fenway Park accommodated 27,000 fans and was built of steel and concrete with a red brick facade. Most of the seats were made of oak and wooden bleachers occupied portions of the right, left, and center fields. A fire in 1926 destroyed the left field bleachers, and they were never replaced.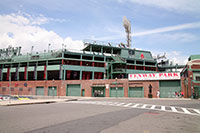 Street view
In 1933, the Red Sox got a new and ambitious owner, Thomas A. Yawkey, who began immediate renovations to the park. He enlarged the grandstand and removed the remaining bleachers, replacing them with concrete stands. The park now seated nearly 34,000 fans. In addition, he was responsible for the placement of a huge 37-foot-high (11 meter) left field wall which, at first, displayed advertisements. When it was repainted and the advertisements removed in 1940, it became known as "The Green Monster".
The Post-War Years
In 1947, a night game was finally played at Fenway Park. The Red Sox were nearly the last team in the major leagues to add night games to their schedule (two other cities held out a bit longer, including Chicago's Wrigley Field, who didn't install lights until 1988).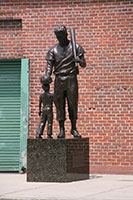 Statue of Ted Williams
at Fenway Park
For the next thirty years, things pretty much remained the same at Fenway. Finally, in 1975, a new $1.3 million video scoreboard was built behind the centerfield bleachers and the press box was finally expanded to include air conditioning and more comfortable seating. The Green Monster was converted from tin to plastic.
In the 1980s, luxury boxes were added, as well as more and better seating for fans who had endured decades of uncomfortable wooden seats. Still more seating was added in the 2000s, increasing the capacity to about 40,000. The building is nonetheless still unobtrusive and fits remarkably well in the neighborhood.
The Future of Fenway
Though there has been much talk about replacing this grand old park, the current owners of the Red Sox, along with the government and citizens of Boston, are committed to saving the park. Even though the amenities at the stadium are constantly modernized, and seating capacity increased, efforts are made to retain Fenway Park's charm.