Boston's historic Custom House was originally built as a Greek temple in 1847. It became the city's first skyscraper when a tower was built on top of the neoclassical temple.
A Greek Temple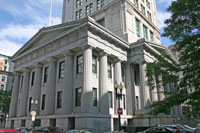 Custom House
Today's the building is more than 150 meters / 500ft removed from the water's edge, but when it was originally built between 1837 and 1847 it was right on the waterfront, at an ideal location between the docks and the financial and administrative heart of the city centered around State Street. The granite building was designed by the American architect Ammi Burnham Young, who created a classical Greek temple with massive Doric columns and a pediment on all four sides. A skylight in the dome brought natural light into the central rotunda.
The Custom House Tower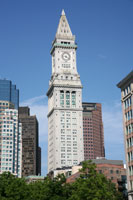 Custom House Tower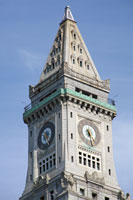 The pyramidal spire
In 1913, to the surprise of many Bostonians, a tower was added on top of the Greek temple. The tower, designed by Peabody and Stearns, reached a height of 496 ft (151m) when it was completed in 1915. A city building height limit, at the time set at 125ft (38m) was ignored, since the Custom House was federally owned. It was by far the tallest tower in the city and it would continue to keep that title until 1964, when the Prudential Tower was built in Boston's Back Bay district.
The tower's design is reminiscent of New York's Metlife Tower, built just a couple of years earlier. Ionic columns decorate the top floors, while the base has little to no ornamentation. Perched on the corners of the cornice are four sculpted eagles. Above is a four-sided clock, with a diameter of 22 ft (6.7 m), beautifully illuminated at night. The tower culminates in a pyramidal top.
While not everyone in Boston was enthusiastic about their first skyscraper, the Custom House Tower soon became an iconic landmark. And even though it is now dwarfed by some of the skyscrapers in the financial center nearby, the tower still features prominently on the city's skyline.
Custom House Today
In 1986 the custom department moved to a more modern building and the Custom House stood empty until it was converted into a hotel in 1999. Inside the rotunda is a small maritime museum. Check with the hotel for access to the observatory, which offers a great view over the docks and Boston's financial center.