For four years the tallest building in the world (1909-1913), the Metropolitan Life Insurance Company Building still stands as a reminder of the opulence of early twentieth century New York City.
MetLife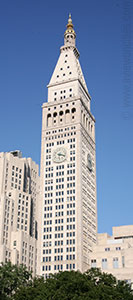 Metlife Tower

Metlife Tower Clock
Located on posh Madison Avenue at 23rd Street, the original MetLife headquarters was a rather modest building, constructed in 1893. The company, who had made its fortune selling insurance to immigrant wageworkers who had much to lose if they were injured or died on-the-job, had become the largest and most successful insurance company in America by the early years of the new century.
To match their new status, the president of the company, John Rogers Hegeman, hired architect Napoleon LeBrun and Sons in 1907 to design a magnificent marble office tower to rival the other large skyscrapers that had begun springing up in Manhattan just a few years prior. Hegeman wanted the building to be the world's tallest.
The MetLife Tower Building
The tower addition was set atop the northwest portion of the existing building at Madison Square. The fifty-story tower, which stands approximately 700 feet (213 m.) tall, can be described as classical in nature, with a standard base, shaft and capital, ending in a pyramidal spire, cupola and lantern. LeBrun, at the request of Hegeman, modeled the tower after the St Mark's Campanile in Venice.
There are 4 four-story clocks mounted on the tower, one on each side. They are Italian Renaissance in style, with the time pieces encircled in wreaths and flowers.
The North Building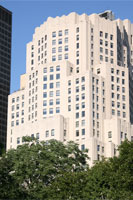 North Building
The building that's now known as MetLife's North Building was originally designed to be a skyscraper in its grandest sense; reaching high into the sky in a mountainous sort of shape. However, when the Depression of 1929 hit the U.S., plans for the 100-story building were halted and what was left was actually the base of the skyscraper, 30-stories tall.
Nonetheless, this Art Deco building, finally completed in 1950, is quite attractive. The North Building is clad in Alabama limestone, with accents done in marble. The lobbies, also done in marble, are magnificent.
Renovations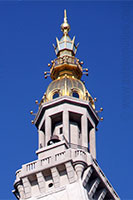 Metlife Tower Cupola
In the 1960s, in a move that many architectural experts deemed scandalous, MetLife replaced the marble portions of the tower with limestone. Sadly, much of the original Renaissance ornamentation was removed.
In 1999, the building underwent another period of renovation. According to Building Conservation Associates, the cupola was re-gilded with 23.75-carat Italian gold leaf, and the cracked Tuckahoe marble facades were replaced, as were damaged white and turquoise tiles on the clock faces.
Conversion into a hotel
When the Metropolitan Insurance Company vacated the iconic building in 2005 its future was unclear until it was purchased by Marriott, which converted it in 2013-2015 into an elegant New York Edition Hotel.