Trump Tower on Fifth Avenue epitomizes the glamour of the 1980s. The iconic glass-clad building is just one of many Trump real estate holdings in New York City.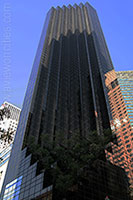 Trump Tower
Trump Tower, located on Fifth Avenue near 56th Street in the midtown section of Manhattan, is a 58-story structure that was built in 1983. The tower was designed by Der Scutt of the architectural firm of Swanke, Hayden, and Connell. Der Scutt has designed a number of buildings in NYC, but Trump Tower has been his most notable.
The Building
Trump Tower stands 664 feet (more than 200 m.) tall. It is a reinforced concrete, shear-wall/core design, similar to Trump World Tower, built much later and completed in 2001. A concrete hat-truss at the top of the building ties exterior columns with the concrete core, increasing resistance against lateral forces such as wind and minor earthquakes. At the time of completion, the Trump Tower was the tallest such building in the world.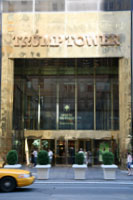 Main Entrance
The building's exterior is clad in dark reflective glass with setbacks beginning near of the base of the building. The setbacks provide more corner spaces and wider views of the city.
Air Rights
Trump and his architect had to come up with some innovative ideas in order for the city to allow such a tall building to be constructed on such a small space. Trump bought the "air rights" to the Tiffany's store which sits beside the tower, constructed a through-block arcade to the neighboring IBM building, and dubbed the atrium "public space", which eased some of the restrictive codes. Making this a mixed-use building also helped alleviate some problems with building codes.
The Atrium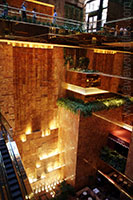 Atrium
The Trump Building is best known for its lavish atrium, which reaches six stories high. Most prominent is the illuminated cascading waterfall, which sits directly across from the entrance. The walls are covered with pink marble, and the widespread use of brass and mirrors is apparent as soon as one enters the lobby area. The atrium is built as a vertical shopping center, in which visitors are guided along escalators and walkways which lead to balconies that open up to specialty shops.
Trump Tower is the domain of the rich and famous. Trump himself lives in the penthouse, and many wealthy New Yorkers occupy the other residential units. The retail area at the atrium, however, is open to the public and can be enjoyed by all who can afford to shop there.