Situated in the middle of Brooklyn, this plaza includes some notable must-sees for those visiting the area.
The Construction of the Plaza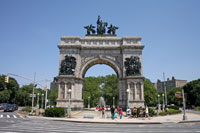 Grand Army Plaza
Designed in 1867 by Frederick Law Olmsted (of Central Park fame) and Calvert Vaux (who also assisted with Central Park), Grand Army Plaza is an 11-acre (4.5 ha) area that was designed as the main entrance to Brooklyn's well-known Prospect Park. This oval plaza consists of concentric rings, from which eight radial road emerge. Flatbush Avenue forms the inner ring.
The creators had hoped that the plaza would serve to isolate the park and keep the noise to a minimum so that visitors to the park could enjoy peace and quiet. The gateway to Prospect Park however failed as the great urban plaza it was meant to be due to the hectic traffic surrounding it, making it hazardous for pedestrians to reach the plaza. Fortunately, plans to make the area more pedestrian friendly are in the works.
Soldiers' and Sailors' Monument
The centerpiece of the plaza is what many have called Brooklyn's Arc de Triomphe – The Soldiers' and Sailors' Monument. Not to be confused with the one of the same name in Manhattan's Riverside Park, this one was designed by John H. Duncan, whose creation was chosen from 36 entries. Duncan later went on to design Grant's Tomb.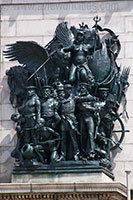 Spirit of the Navy
It took three years to build the arch, which was opened in 1892. The 27-meter-high monument honors Union Army soldiers who served during the Civil War.
Inside the arch are wonderful equestrian relief sculptures of Lincoln and Grant, sculpted by William Rudolf O'Donovan and Thomas Eakins (the latter did the horses). The statues that sit about halfway up the arch represent "The Spirit of the Army" and "The Spirit of the Navy". They were added around 1900 and were designed by Frederick MacMonnies. He also created the Quadriga, which sits on top of the arch and depicts "Columbia", who is generally used as an allegorical representation of the U.S. She sits upon a chariot which is drawn by two horses and is surrounded by winged Victory figures.
Bailey Fountain
Bailey Fountain
To the north of the Soldiers and Sailors Monument sits Bailey Fountain, first placed at the site in 1932. It was designed by architect Edgerton Swarthout and sculptor Eugene Francis Savage but named after local financier and philanthropist Frank Bailey, who financed the fountain.
A popular spot for wedding photos, the fountain shows a man, woman (representing wisdom and felicity) and a boy holding a cornucopia. They stand on top of the prow of a ship, surrounded by Neptune – god of the sea – and a Triton.
Brooklyn Public Library
On the southeast corner of the plaza sits Brooklyn's Central Library, the largest in the borough's public library system. It is an imposing building with an enormous entrance gate decorated with gilded reliefs that resemble Egyptian hieroglyphs.