This beautiful 585-acre (237 ha.) large park is an oasis in the middle of bustling Brooklyn.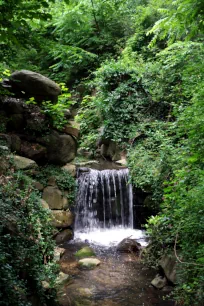 Designed by famed landscape architects Frederick Law Olmsted and Calvert Vaux, the designers of Central Park in Manhattan, Prospect Park was built in the 1860s. Olmsted and Vaux considered this park a better creation than Central Park.
Meant to provide the growing population of Brooklyn with a place to enjoy trees, flowers, and recreational activities, the park was to be a relaxing, pastoral landscape. According to Engineer-in-chief Egbert L. Viele, this park was to be a tranquil haven where people could recover from the hectic city life.
The park is created around a wide open grassland, known as the Long Meadow. At almost one mile (1.5 km.) in length, this is the longest meadow in all of New York City.
Park History
The original park included sandstone bridges, arbors, and the Concert Grove and Pavilion for enjoying music in a pristine outdoor setting. Trees included maples, magnolias, and cherry trees, as well as a number of exotic trees and plants imported from other parts of the world. Before the park was even complete, historians say an estimated 100,000 people had visited.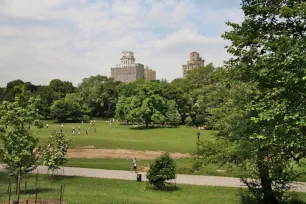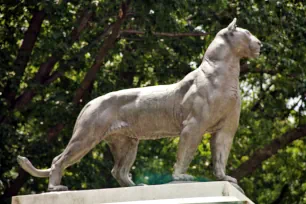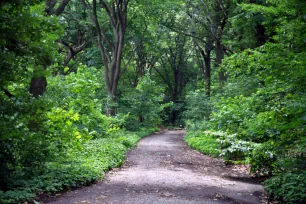 By the twentieth century, the face of Prospect Park would begin to change. City officials hired the architectural firm of McKim, Mead, and White to give the park a more formal appearance. They added statuary, grand entrances with columns, a tennis house, a picnic house, and a model yacht club. A zoo was added in 1935, a band shell in 1939, and several children's playgrounds soon appeared as well.
But by the 1950s, overuse became a problem and a lack of funds plunged the park into a state of disrepair and neglect. After nearly three decades of decline, a renovation and repair effort began in the late 1980s with the founding of the new non-profit Prospect Park Alliance, a group of concerned citizens who worked with park officials to restore the park. Restoration continues, but park visitation is up again, with about eight million visitors a year heading there for rest or recreation.
Today
Modern day visitors to Prospect Park have a plethora of activities from which to choose. For recreation, there are ball fields, horse stables (horses are available for rent), nature trails with interpretive signs, seven different playgrounds, a tennis center, an ice skating rink, and plenty of room to walk, inline skate, or bike.
Attractions
A popular attraction in the park is the Prospect Park Zoo. The park also boasts many historic buildings such as a restored 1912 carousel, the concert grove – also known as the Oriental pavilion, the historic eighteenth-century Lefferts House, the Music Pagoda, the colonnaded Grecian Shelter – designed by Stanford White, and the Audubon Center with its magnificent boathouse designed by Frank J. Helmle and Ulrich Huberty.
The grand entrance to Prospect Park – Grand Army Plaza and its triumphal arch (a Civil War memorial) – is worth a visit in its own right.
Restrooms are available around the park, as are cafés and concession stands. Electric boat tours of Prospect Lake are also available in season and provide a relaxing ride along this 60-acre (24 ha.) lake.