It seems hard to believe, but this beautiful Church once dominated the Lower Manhattan skyline. Today the church is eclipsed by many taller buildings, but it is still cherished for its magnificent architecture.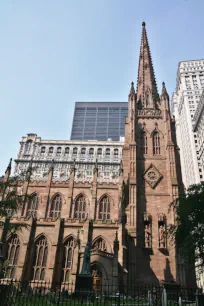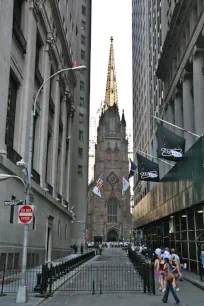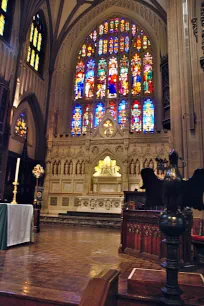 Building the Church
The congregation of Trinity Episcopal Church is one of the oldest in America, having been established in 1697 under charter by King William III. At that time, the crown granted them a prime piece of real estate at the intersection of Broadway and Wall Street. A church building has stood there ever since.
The current Trinity Church is the third building to stand at that location. It was designed by American Institute of Architects co-founder Richard Upjohn and was consecrated on Ascension Day in 1846. Upjohn was known as a leader of the American Gothic Revival movement. His magnificent design made Trinity one of the first and finest examples of Neo-Gothic architecture in the United States.
Upjohn's designs were of "high church" style, much different than many of the simple Protestant churches being erected in and around the city. As a matter of fact, many found it to be too flashy and unbefitting of a religious congregation.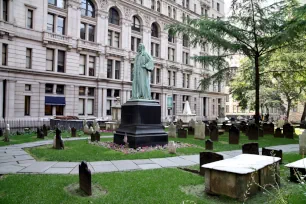 But Upjohn persisted, using heavy bronze front doors and elaborate stained-glass windows, including a stunning towering window over the chancel area which depicts Jesus, St. Peter, St. Matthew, St. Mark, St. Luke, St. John, and St. Paul in a variety of bright colors. The remainder of the interior conforms to the rubrics of traditional Gothic architecture as well.
Outside, the church's spire soars to a height of 281 feet (86 m.) and for many years, it was the highest point in the city. The sandstone face of the Church is adorned with Gothic spires and pointed arches, and the exteriors linear design gives one the impression that everything is pointing upward towards heaven.
Some critics point out the fact that there are no flying buttresses at Trinity Church, which would be typical of Neo-Gothic architecture. Upjohn may have succumbed a bit to the pressure of those who thought the building was too elaborate, so he dispensed with the buttresses.
Visiting Trinity Church
Trinity Church, which holds a position on the National Register of Historic Places, is open daily and welcomes visitors to come in and view the church or stay for a few moments of respite.
The church's excellent music program hosts weekly concerts that have long been enjoyed by local business people on their lunch hour. Known as "Concerts at One", visitors can enjoy a variety of musical genres presented in concerts by both well-known musicians and up-and-coming artists who attend the city's many music conservatories.