Located on the Upper West Side, this narrow strip of parkland makes you think you've left the city!
The Design of the Park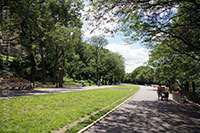 Riverside Park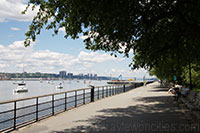 Waterfront
Extending for four miles (six km) from 72nd to 158th Street along the Hudson River, Riverside Park is truly one of the nicest spots in Manhattan. A New York "Designated Scenic Landmark", the park has long provided respite for those looking to escape the crowds of the city.
Designed in 1873 by Central Park's Frederick Law Olmsted, who is responsible for many NY parks, Riverside Park boasts a variety of different landscapes, from colorful flower gardens to rocky precipices.
Originally, the park stretched only to 125th Street. Its construction prompted the building of many mansions along the drive that traversed the park, and soon a number of memorials appeared there as well. Before long, the park was extended an additional 33 blocks, and in the 1930s, it was widened westward with the addition of 148 acres, ball fields, an esplanade, and a marina.
Throughout the next seventy years, other small land additions were made to the park, and its landscape and attractions have been refurbished a number of times, keeping the park in pristine condition for all to enjoy.
Monuments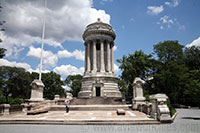 Soldiers' and Sailors' Monument
Inside the park are a handful of notable monuments, including the Soldiers and Sailors Monument at 89th Street. This white marble monument, designed by Charles and Arthur Stoughton, honors the Union soldiers and sailors that served in the U.S. Civil War. The memorial resembles a Corinthian temple and is ringed by a dozen Corinthian columns. Inscriptions on the building include the names of New York volunteer regiments and the battles in which they served, as well as Union generals.
Other memorials in the park include Grant's Tomb, a statue of Joan of Arc at 93rd Street, and a memorial to Eleanor Roosevelt at 72nd Street.
91st Street Garden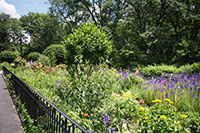 91st Street Garden
Between 90th and 91st Street, inside the park, sits what has become known as the 91st Street Community Garden. Used as a backdrop in the movie "You've Got Mail", the garden is staffed by volunteer members who are given individual plots to cultivate. Visitors will find a variety of annuals and perennials (depending on season) as well as herbs growing in this garden, which is open to the public from early spring until late autumn.
Recreation
Riverside Park is a favored recreation area for New Yorkers who live or work in the Upper West Side area. A bicycle and skating path extends from 75th to 125th Street, and there are plenty of places to stroll or jog. Abundant recreational areas are also available and free kayak rental is available at the lower tip of the park (hours are limited).