Wall Street is one of the world's most famous streets. Historically known as the center of New York's financial district, Wall Street is often associated with wealth and ambition in America.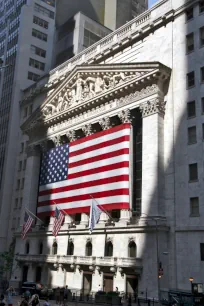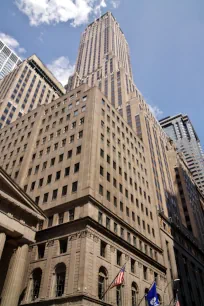 How It Got Its Name
After the Dutch purchased "New Amsterdam" from the Native Americans, a palisade was erected that formed the northern boundary of the new colony. The first "walls" along the street were basic plank fences, but as time passed and tensions grew, a stronger, taller wall was built in order to defend the colony against both the British and the American Indians tribes that still dominated the area. In 1685, after the original palisade was torn down and replaced with a new wall, a new street was created parallel with the wall, aptly named Wall Street. The British removed the defensive wall in 1699.
How It Got Its Reputation
Records show that in the years after the Revolutionary War, traders and speculators would gather under a particular buttonwood tree that sat at the foot of Wall Street. They soon formed The Buttonwood Association (1792), which is believed to be the roots of the New York Stock Exchange, whose headquarters has been located on Wall Street for centuries.
Buildings along Wall Street
By the late nineteenth and early twentieth centuries, Wall Street was "the place" to be if you were a large financial institution or other big business. So many buildings sprung up on this tip of Manhattan that the Wall Street district began to boast its own distinct skyline, separate from the buildings in Midtown.
People like J.P Morgan built headquarters like the one at 23 Wall Street, which was – for decades – the most important financial institution in the country. (One can still see the pockmarks on the building, left there from an unsolved bombing that occurred in 1920.)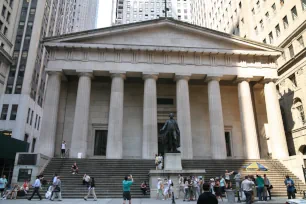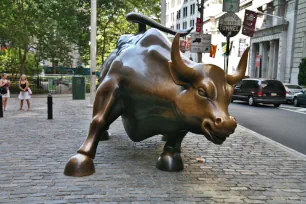 Other notable buildings include the columned Federal Hall, originally built to house City Hall and its offices. The New York Stock Exchange (NYSE) Building is also quite grand, built by George B. Post in a neoclassical style that earned it a spot on the National Register of Historic Places. Equally as notable is the ornate 40 Wall Street, once home to the Bank of Manhattan.
The Charging Bull Statue
One of the Financial District's most famous symbols is the 'Charging Bull' Statue (The bull represents a bull market, a constantly rising market).
Inspired by the stock market crash in 1987, sculptor Arturo Di Modica created the 7,000-pound (3175 kg) bull statue as a token of optimism. In 1989, he placed it – without authorization – in front of the New York Stock Exchange in Wall Street. Police removed the statue but thanks to a public outcry it was reinstalled, but this time on Bowling Green, a small square annex park near Wall Street. The statue has become one of Lower Manhattan's most popular attractions.