Now known as The Trump Building, the magnificent structure at 40 Wall Street was once in a race to become the Tallest Building in the World.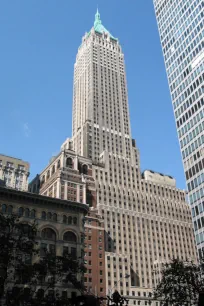 The Battle with the Chrysler Building
In 1928, developer George Ohrstrom began amassing parcels of land so that he could realize his dream of building the world's tallest skyscraper. This commercial building was to be the headquarters for the Bank of Manhattan Trust Company and would be designed by H. Craig Severance, whose former partner William Van Alen was – at the same time – working on plans for the famed Chrysler Building.
Demolition and foundation-laying began in late 1929, taking just three weeks to complete – an astounding feat in itself. Motivated by the need to trump the Chrysler Building, workers completed the entire steel frame of the 72-story building in just 93 days and finished the project by May 1930, about a year after construction began.
For a brief time, Severance and partner Yasuo Matsui thought their building was the tallest in the world, until Van Alen revealed plans for the needle-like spire atop the Chrysler Building, instead making that building the tallest.
About the Building
Even though 40 Wall Street – at the time known as Bank of Manhattan Trust building – lost its title as the Tallest Building in the World, it did indeed become known as "The Crown Jewel of Wall Street", and has long dominated the skyline in Manhattan's Financial District. Its pyramid-shaped crown and gothic spire are easy to spot from various locations in New York and New Jersey.
40 Wall Street's beautiful bronze doors, topped by the sculpture "Oceanus", make for a grand entrance into the ornate interior, which includes a bank boardroom modeled after the Signers' Room in Philadelphia's Independence Hall, and a magnificent two-story marble banking hall with world-renowned murals by Ezra Winter, whose work is featured in Rockefeller Center and many other NYC locales. The building became known for its 70th floor observatory and its 43 high-speed elevators.
A New Owner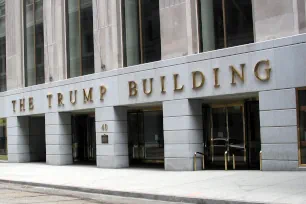 After many years of struggle and low occupancy rates, caused in the early days by the Depression and World War II, the building switched owners several times and was even at one time owned by Philippine president Ferdinand Marcos.
In 1995, Donald Trump purchased 40 Wall Street and completed millions of dollars in renovations. He had hoped to make it half-residential/half-commercial, but the building remains entirely commercial. Trump attempted to sell the building in 2003, but there were no takers who could match his asking price of $400 million.