At the beginning of the twentieth century, the race for the world's tallest building started in earnest, with several developers in New York vying for the coveted title. The Chrysler Building was the first building to top the then tallest structure, the Eiffel Tower in Paris.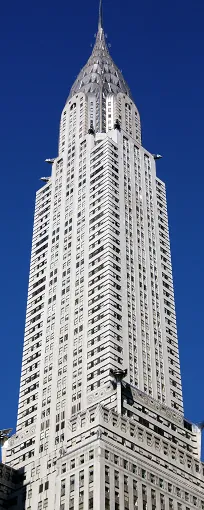 A race for the tallest building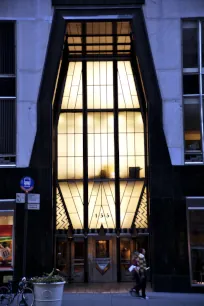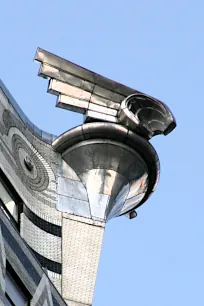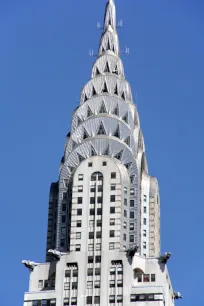 For Walter P. Chrysler, founder of the eponymous car manufacturer, building the tallest building in the world was a status symbol. The Chrysler Building was in a race with the Bank of Manhattan (now 40 Wall Street) for obtaining the title of tallest building in the world. It looked like the Bank of Manhattan would win the race, with an expected height of 282 meters (927 ft.) to around 230 meters for the Chrysler Building. But the spire of the Chrysler Building was constructed in secret inside the tower.
Just one week after the Bank of Manhattan had topped out, the spire of the Chrysler Building was put in place, making it 318 meters (1045 ft.) tall, thus beating the Bank of Manhattan as the tallest building in the world. It would not keep this title for long: one year later, the Empire State Building was erected.
Art Deco
The Chrysler building is one of the last skyscrapers in the Art Deco style. The gargoyles depict Chrysler car ornaments, and the spire is modeled on a radiator grille. Since it was restored in 1996 it glitters again like it must have in the 1930s.
And the building's Art Deco interior is even more magnificent than its exterior. The marble floors and many Art Deco patterns such as on the stylish elevator doors make the Chrysler Building one of New York's most beautiful office towers.
Popularity
The building's design by architect William van Alen was largely dismissed by contemporary architecture critics, who claimed the spire's design was kitsch and the tower nothing more than a folly.
But ever since its construction, the popularity of the building has grown constantly, both among New Yorkers and architecture critics. It is now regarded as one of America's greatest buildings, and the Chrysler Building is often featured on the cover of architectural books and magazines.