Considered to be America's first suburb, the neighborhood known as Brooklyn Heights offers a look at stunning brownstones and quiet tree-lined streets, not to mention killer views of Manhattan.
History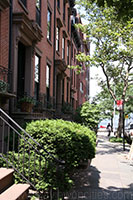 Brooklyn Heights
Brooklyn Heights was one of the first areas outside the city of Manhattan to be settled. Wealthy city investors chose this neighborhood along the East River so that they could watch the new skyscrapers as they were constructed, eventually creating the most famous skyline in the world.
Dutch settlers first made their homes in "The Heights" in 1645. During the Revolutionary War, George Washington used Brooklyn Height's Cornell Mansion as his headquarters. Later, in the early 1800s, inventor Robert Fulton ran his steamboat from Manhattan to the shores of Brooklyn Heights, carrying passengers on their way back and forth to work in the city. Today, Brooklyn Heights' residents can reach Wall Street in just five minutes via NY's famous subway system. Even better, they can reach Manhattan on foot via a spectacular walk over the Brooklyn Bridge.
Sights
Plymouth Church
Many visitors head to Brooklyn Heights to admire its majestic homes. Travelers should also make a stop at the Plymouth Church of the Pilgrims, where New Yorkers first worshiped in 1847, led by Henry Ward Beecher, famous antislavery advocate. The church became an important part of the Underground Railroad, bringing slaves to freedom from the oppressed South.
Another interesting church is St. Ann and the Holy Trinity, with its 7,000 square feet of stained-glass windows designed in the 1840s by William and John Bolton. Those windows are said to be the very first American-made stained glass.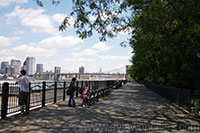 Brooklyn Heights Promenade
The headquarters of the Brooklyn Historical Society, housed in a magnificent 4-story Queen Anne-style building, is also an essential stop when visiting the neighborhood. You find interesting exhibits inside and may be able to book a walking tour with a member of the Society. Don't forget to stop at Grimaldi's Pizzeria and the famous Brooklyn Ice Cream Factory.
The Promenade
The Brooklyn Heights Promenade is the result of a protest against the building of the Brooklyn-Queens Expressway. A neighborhood association opposed plans for the expressway and won. Therefore, in order to avoid the dissection of Brooklyn Heights by the expressway, a 1/3 mile-long (500 m.) promenade was built atop the two-story highway.

View of Lower Manhattan from Brooklyn Heights Promenade
The Promenade is a favorite stopping place for both locals and tourists. Many pause here to photograph the Manhattan skyline, while others use it as a place to rest, jog, or rollerblade. There's plenty of space, a playground area for children and lots of benches.
The promenade overlooks the new Brooklyn Bridge Park, which can be reached via a pedestrian bridge that starts from Squibb Park, situated just north of the promenade.