The Independence Hall is one of the most important historical landmarks in the United States. Major steps towards independence were taken here by delegates of the English colonies, amongst them George Washington, Benjamin Franklin and Thomas Jefferson.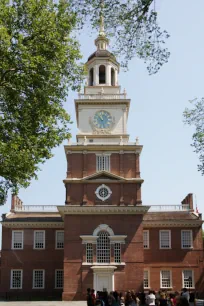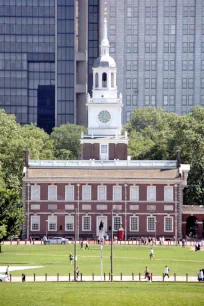 Declaration of Independence
The Declaration of Independence was signed in this building on July 4, 1776. The Independence Hall was also the site where the American Flag was first unveiled in 1777. In 1781, the Articles of Confederation uniting all thirteen British colonies were ratified here. And in 1787 the US Constitution was drafted in this building.
Construction
Construction of the Independence Hall, originally known as the State House of the Province of Pennsylvania, started in 1732. It was built at the outskirts of the city, on a block of Chestnut Street between 5th and 6th streets.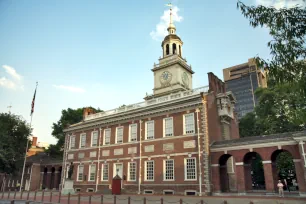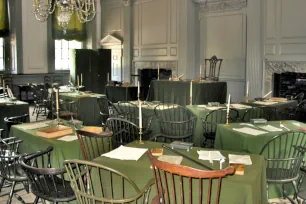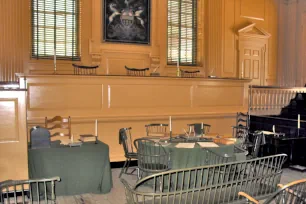 The architect was Edmund Woolley who received help from Andrew Hamilton, a well-known Philadelphia lawyer. The latter is often credited for the design of the Independence Hall, but he probably only supervised the construction.
The brick Georgian building with a tall wooden steeple was completed in 1756. The steeple now holds a bell donated in 1876 for the centennial anniversary celebrations. The original bell, known as the 'liberty bell' is housed in a separate pavilion.
Interior
On the ground floor of the Independence Hall are two halls that are open to visitors. On the east side is the Assembly Room, where the Declaration of Independence and the U.S. Constitution were signed. This is also where the Second Continental Congress met. On the west side is the Supreme Court Room, where the Supreme Court met until 1799, when Philadelphia lost its position as state capital to Lancaster.
The Independence Hall was restored several times, changing the appearance of the building. In 1950 the National Park Service restored it back to its 1776 appearance. Most of the furniture visible inside the Independence Hall is not authentic: in 1778 British troops occupied the building and used the furniture as firewood.
Location
The Independence Hall is located in the middle of the 45-acre (6 ha.) Independence National Historical Park. The historic building can be visited free of charge by guided tour only.