Philadelphia's City Hall is the largest, tallest and most expensive of all city halls in the United States.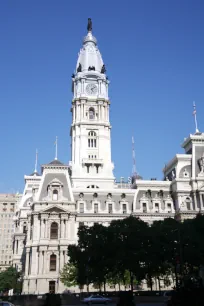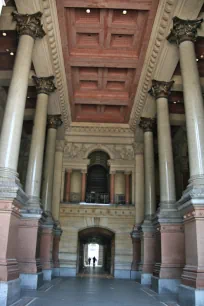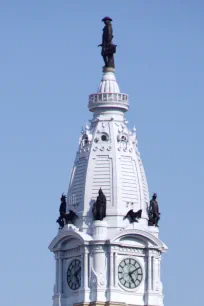 William Penn's 1683 plan for Philadelphia set Center Square, the largest of five rectangular squares, aside for public buildings.
Until the nineteenth century, Center Square was far from central as most of the population lived near the Delaware river, close to the Independence Hall. As the population started to move westward and the need for a larger city hall became imminent, a move to Center Square was approved in 1870. By then, Center Square had been renamed Penn Square in honor of the city's founder, William Penn.
Construction
Construction of the building started the following year, after a design by John McArthur, Jr. in the then very popular Second Empire style. The ambitious project was to result in the tallest building in the world, but by the time it was completed in 1901 after thirty years of construction, it had been eclipsed by the Washington Monument and the Eiffel Tower.
The Building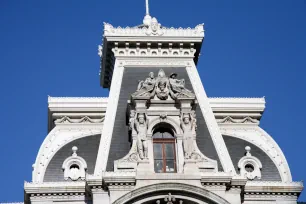 The enormous city hall is still the tallest and largest masonry building in the world. Since no steel frame was used, the walls at the first floor are up to 22 ft thick to support all the weight from the floors above. The eight floors, each about 16 ft high, look like just three floors from the outside.
The central tower reaches a height of 511 ft. It is topped by a statue of William Penn. The massive statue is 37 ft high and weighs 27 ton. It is just one of 250 sculptures created by Alexander Calder for both the interior and exterior of the city hall.
The building's more than 600 rooms are organized around a central courtyard, which can be reached via the large archways on each of the four sides. Many of the rooms are lavishly decorated, including the Reception Room with blue and gold ceiling and red marble columns, and the Conversation Hall which boasts a magnificent chandelier.
No Longer the Tallest
In 1987 One Liberty Place dethroned the Philadelphia City Hall as the tallest building in the city. Until then, an agreement between developers would not allow any building in the city center to be higher than the hat of William Penn's statue on top of the City Hall.
Observation Deck
The tower has an observation deck open to the public. Some of its beautiful interior can also be visited; go to the City Hall Tour Information Center Room 121 at the East City Hall Entrance for information and tickets.