In 1987 One Liberty Place became the first skyscraper to eclipse the height of Philadelphia's City Hall.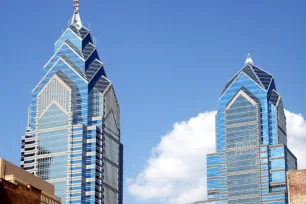 As one of the oldest cities in the United States, Philadelphia is home to many historic buildings, from the early eighteenth-century Independence Hall to the early twentieth-century City Hall. The latter was the tallest building in the city until 1987, when the construction of a glass skyscraper, known as One Liberty Place, changed the skyline of the city.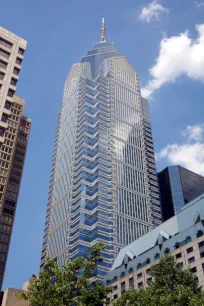 The Unwritten Rule
Until then, an unwritten rule prevented developers from exceeding the height of the hat on William Penn's statue atop the City Hall. Willard G. Rouse eventually got approval for his Liberty Place project, which included two towers, both taller than the City Hall. The approval was given after intense lobbying, with the prospect of more jobs and revenue for the cash-strapped city.
One Liberty Place
The first tower, One Liberty Place, was built in 1987. At 945 feet or 288 meters, it was the tallest building in the city until the completion of the Comcast Center in 2008. The postmodern 60-story tower with sapphire blue glass sheathing was designed by Murphy & Jahn Associates. Its pyramidal top features a series of chevron setbacks.
At the end of 2015 an observation deck opened on the 57th floor of One Liberty Place, 883 feet (269 meters) above street level. It features a 360 degree view of Philadelphia and beyond. At the center of the One Liberty Observation Deck is a giant Ben Franklin sculpture, and there are also touch screens that tell you what you're looking at.
Two Liberty Place
In 1990 a similar tower, Two Liberty Place, was built as a part of the same complex. It is a smaller version of One Liberty Place, with a height of 848 feet /258 meters and 58 stories.
More Skyscrapers
Since the construction of One Liberty Place, many more skyscrapers were built in the area, many of them exceeding the height of Philadelphia's former tallest, the City Hall.
Liberty Place is located in Center City, at 17th and Chestnut Streets. It has a public court and retail space with about seventy shops.