Society Hill is one of the most pleasant areas in Philadelphia. The neighborhood, loosely defined as the area between Walnut, Lombard, Front and 8th Streets, contains the largest concentration of original eighteenth- and early nineteenth-century architecture of any place in the United States.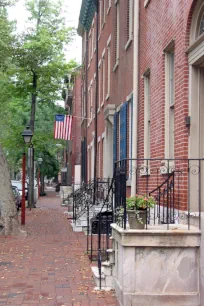 Much like Beacon Hill in Boston, Society Hill is a charming district with cobblestone streets bordered by brick row houses in Federal and Georgian style.
Society of Free Traders
The district is named after the eighteenth-century Society of Free Traders, which had its offices at Front street on the hill above Dock Creek. Located close to both the river and Philadelphia's civic buildings, including the Independence Hall, the neighborhood soon became one of the city's most popular areas. Several market halls, taverns and churches were built alongside brick houses of Philadelphia's affluent citizens.
Decline and Restoration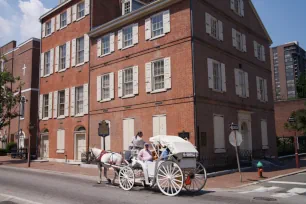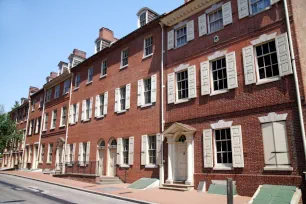 In the nineteenth century, the city moved westward, and the area lost its appeal. The houses started to deteriorate until the 1950s, when the city, state and federal governments started one of the first redevelopment programs aiming at the preservation of historic buildings.
While several nineteenth-century buildings were demolished, most historic houses were sold to individuals who were bound to restore the exterior of the buildings. At the same time, parks and walkways were created, replacing demolished buildings. Replicas of eighteenth-century street furniture enhance the colonial atmosphere.
At some places, demolished buildings and empty lots were replaced by more modern buildings or even high-rise buildings like the Society Hill Towers.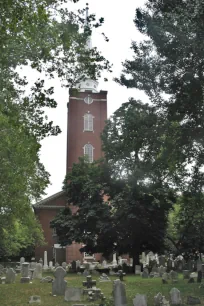 Historic Buildings
Society Hill contains many interesting historic buildings. One of them is the Society Hill Synagogue. It was originally constructed as a Baptist Church in 1829 by the Philadelphia architect Thomas U. Walter, one of the architects of the US Capitol in Washington, DC. The facade was redesigned twenty years later in the Renaissance style, a stark contrast with the adjacent buildings in Federal and Georgian style. The two towers were topped by domes, but those were removed later.
Another notable building is the St. Peter's Church. It was constructed between 1758 and 1761 by Robert Smith. The design of the Anglican church is very sober with a simple six-story high tower. The wooden steeple was added much later, in 1759.