Beacon Hill is a fascinating, early nineteenth-century neighborhood with narrow streets. The row houses are nearly all in brick in Federal, Victorian and Georgian styles.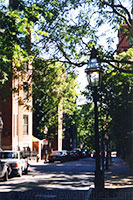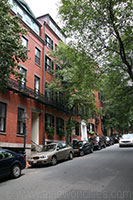 Beacon Hill
This National Historic District is exceptionally well-preserved, with well maintained charming houses, low-traffic streets paved with cobblestones and gas-lit street lighting. An ideal surrounding for the urban romantic.
History
Until the end of the eighteenth century, the south slope of Beacon Hill was a pasture owned by painter John Singleton Copley. He sold it to the Mount Vernon Proprietors, to which the architect Charles Bulfinch belonged. They designed quality residences on the south slope. Halfway the nineteenth century, Beacon Hill was almost fully developed. It had become a very popular district, especially the south slope which attracted some wealthy Bostonians.
Decline
When development of the Back Bay district got underway, many residents moved to the more fashionable new district, which offered larger houses and wider streets. Beacon Hill started to decline until the second half of the twentieth century. Today the area is yet again a great place to live in, a nineteenth-century district in the heart of a twenty-first century metropolis.
State House
The most prominent building on Beacon Hill is the new State House. It was built in 1795 by Charles Bulfinch. The dome is covered with 23 1/2 carat gold leaf.