Boston's Old State House is truly a historical site, built in 1713 to house the government offices of the Massachusetts Bay Colony. It replaced the original Boston "Town House", which was built in the mid-1600s, a wooden structure destroyed by fire in 1711.
Historians note that this was "the" place to meet to exchange news of the colonies and speak of economic situations.
Government Offices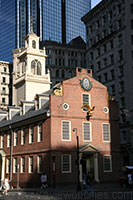 Old State House
The Council Chamber of the Royal Governor was located upstairs at the east end of the State House. Here, debates took place and speeches were penned and later delivered, most concerning the tyranny of the British crown.
The second floor's central area was home to the Massachusetts Assembly, considered to be one of the most independent of the colonial legislatures. In the assembly room, politicians of that era debated issues, often in front of ordinary citizens, who gained access to the debates via a public viewing room.
The Suffolk County Courts and the Massachusetts Supreme Judicial Court occupied the west end. This particular Supreme Court was responsible for many landmark decisions made in the early days of the colonies.
The Historic Balcony
Citizens often gathered around the State House balcony to hear the reading of official proclamations, many which were of great historical significance. It was also from a spot underneath this balcony that the famous Boston Massacre began. Here, a handful of angry British soldiers fired into a shouting crowd of Boston citizens, killing five of them. Today, a circle of paving stones marks this historic occasion.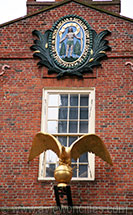 On July 18, 1776, the citizens of Boston first heard the words of the Declaration of Independence, read from atop this balcony. Later that day, symbols of royal authority that once graced the State House were burned.
Later History
After the Revolutionary War, this beautiful building was used for commercial purposes and later became Boston's City Hall during the 1830s. By 1841, it reverted to commercial uses once again.
Due to extensive alterations, the building began to decline. In 1879, a group of concerned Bostonians stepped in to save the building and converted it into a museum of Boston history. Now owned by the city of Boston and a designated part of the Freedom Trail National Historic Park, millions of visitors each year stop by the Old State House on their way around the 2.5 mile (4km) trail that takes guests to a variety of Boston landmarks.
Today, the Old State House is thought to be at risk for structural failure due to massive deterioration in the northeast corner caused by water damage. The Boston Historical Society continues to try to raise funds to save this important site as the National Park Service is unable to meet the cost of the repair project.