The glass John Hancock Tower was built in 1976 as Boston's tallest building. The modern building designed by I.M. Pei contrasts with the neighborhood's nineteenth century buildings.
Controversy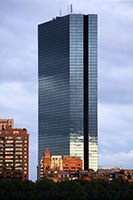 John Hancock Tower
The construction of a modern skyscraper at Copley Square, a site with many important historic buildings, sparked an intense debate. The architecture firm of I.M. Pei and partners proposed a sleek 60-story tower with a glass curtain wall, a stark contrast with the nineteenth-century Romanesque Trinity Church across the street.
Reflecting historic surroundings
The combination turns out to work well: the glass wall of the sixty-story John Hancock Tower reflects its surroundings and does not interfere with it. I.M. Pei would later implement a similar solution in Paris, where a glass pyramid is set in the middle of the historic Louvre Palace.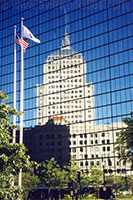 Old Hancock Tower
reflected
in the new one
The John Hancock Tower was built in 1976 and at 241 meters (790 ft.), it is still the tallest building in Boston. It had an observatory with a great panoramic view on Boston, but unfortunately it is now closed. Head to the nearby Prudential Center for a great view over Boston.
Old Hancock Tower
Adjacent to the modern John Hancock Tower is the 1947 Old John Hancock Tower. This Art Deco building has a pyramid-shaped roof topped with a weather beacon. The beacon has a different color depending on the weather: clear blue means a clear view, flashing blue means clouds due, steady red signals rain ahead and a flashing red beacon warns of snow.