In March 1872, the Trinity Church parish in Boston invited several architects to submit designs for their new church. They wanted to move from the old Trinity Church on Summer street to the Copley Square in Back Bay, a brand new but popular district.
Richardsonian Romanesque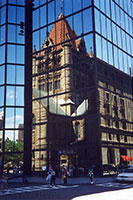 Trinity Church reflection
Most designs submitted were in the then popular Victorian Gothic style. But the commission was awarded to a design by Henry Hobson Richardson. He proposed a relatively low church based on Romanesque architecture found in southern France.
Richardson's innovative style, also displayed in the now destroyed Marshal Fields Wholesale Store in Chicago, would become known as 'Richardsonian Romanesque'.
Richardson opted for a plan with a Latin cross, with a semicircular apse added to the eastern side. The tower is relatively low and wide, and centrally located. The central location of the tower was chosen as most desirable, as the building fronts three streets.
Building on Marshland
Because of its strength, granite was used as the main building material and red sandstone for the trim. The large granite stones, with a minimum height of 24 inches and length of 1 foot were quarried in Westerly, Rhode Island.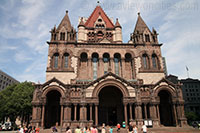 Trinity Church
Due to the choice of material, the building's tower had an immense weight. To support the building on the wet filled marshland in Back Bay, a space ninety feet square has been reserved for the tower foundation. This was filled with wooden piles. Concrete was used to prevent lateral movement of the piles, but the piles actually supported (and still support) the tower. On top of the piles are four granite pyramids, which in turn support the corner piers of the 40,000 ton weighing tower. In order to prevent the wooden piles from rotting, the water level beneath the church is constantly monitored.
Consecration
Trinity Church was consecrated on February 9, 1877, more than four years after the old Trinity Church was destroyed in the Great Boston Fire of November 1872.
The original facade was flat, and the towers were much simpler than they are today. On Richardson's own recommendation, the towers were later remodeled. The current portico was also added later. It is based on sketches made by Richardson on a trip to Arles in France.