The center of the campus of Harvard University, Harvard Yard contains some of the most historic buildings in Cambridge.
Harvard Yard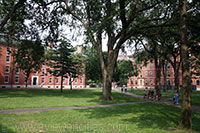 Harvard Yard
Technically, Harvard Yard is a pristine grassy area of about 25 acres (10 ha) located in the center of the university property. It is the oldest area of this prestigious Ivy League college and encompasses a few dozen of the university's longest-standing buildings, including both dormitories and academic and administrative buildings.
Old Harvard Yard
The portion of Harvard Yard known as the Old Yard is situated to the west and consists of a large portion of the university's freshman dormitories, including Massachusetts Hall, built in 1720 and believed to be the oldest academic building in the United States. The offices of the president of Harvard are housed on the bottom floors of this historic structure.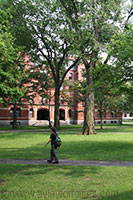 More Historic Buildings
Nearby Harvard Hall, rebuilt in 1766 after a fire, once housed the university's humongous library but now is home to several classrooms. Nearby University Hall became famous as the site of many on-campus sit-ins during the turbulent years of the late 1960s.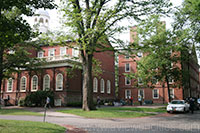 In the very center of Harvard Yard, you'll find the Tercentenary Theater, used for commencement exercises and for many other special events during the course of the academic year. Also in the Yard are four of the university's many libraries, including the Widener Library, the Pusey Library annex, the Houghton Library for rare books and manuscripts, and the undergraduate Lamont Library.
In addition, you'll find several other academic halls in Harvard Yard, as well as the Holden Chapel and the Phillips Brooks House, designed by Alexander Wadsworth Longfellow, Jr., an American architect who was the nephew of poet Henry Wadsworth Longfellow.
Administrative buildings include Wadsworth House, the headquarters of the school's powerful alumni association, and Loeb House, where Harvard's governing bodies meet to discuss university business.