Stata Center is an academic building at the MIT campus in Cambridge. In an area stacked with notable architecture, architect Frank O. Gehry's Stata Center still manages to stand out.
A new complex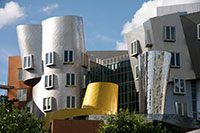 Stata Center
The glitzy Stata Center was built in 2004 and replaced a timber-framed structure known as 'Building 20' dating back to World War II.
The 720,000-sq. ft. (66,890 sq. m.)-large complex is home to a lecture room, a number of classrooms and computer science laboratories. Several different departments are housed here. The complex is named after Ray and Maria Stata, who helped financing the expensive project.
Chaotic architecture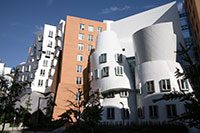 Street facade
The design of the Stata Center by the architectural firm of Gehry Partners is highly unconventional and the cause of controversy among architecture critics. Its chaotic collection of undulating shapes, bright colors and different materials is meant to reflect the freedom of ideas. The gist was that the building's exterior must be representative of what is going on inside and thus should be original, daring and fun.
The building looks to be distorted, almost as if it is on the verge of falling in. All the walls have different angles, some sloped, and some straight. The cladding is reflective, as is often the case with Gehry's works, and clashes with the use of more conventional red brick walls.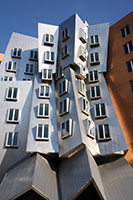 Glittering titanium
Inside, the concrete building is structured in an open way with free-form space so that people from different departments are more likely to meet each other, encouraging interaction. The drawback is however a lack of offices and students reportedly have a hard time concentrating due to the surround noise in the open spaces.
Polarization
When the building was completed in 2004 opinions were divided: some architecture critics marveled at the unique design while others considered it a disaster. The building is still controversial, more so than any other of Gehry's projects.