In a city best known for its historic sites, Boston's Copley Square is well-known instead for the architectural delights that grace the area, once the site of the Massachusetts Institute of Technology (MIT) before it moved to Cambridge.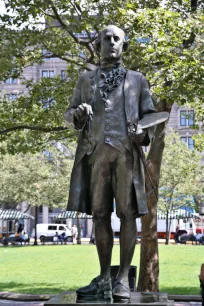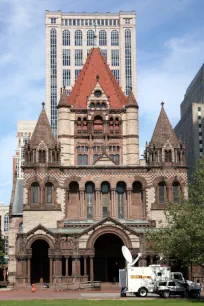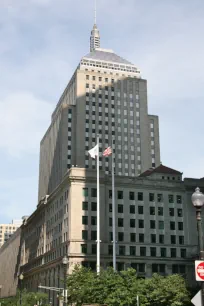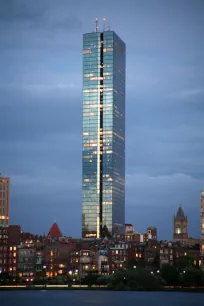 Copley Square is a square in every sense of the word. Since 1994, the streets have been configured in a square shape with equilateral sides. Located in the Back Bay neighborhood of Boston, you'll find both residents and visitors enjoying the greenery of the park located here as well as the magnificent buildings that surround the square.
Standing in the middle of Copley Square and turning from side to side will provide you with an eyeful of buildings in a variety of styles – from decidedly old to quite new.
Trinity Church
Probably the most prominent landmark on the square is Trinity Church, designed by Henry Hobson Richardson and built between the years of 1872-1877. The style of the church has come to be known as "Richardson Romanesque" and has served well to establish the architect's fine reputation. Its clay roof, huge arches, and tall tower seem more reminiscent of Europe than nineteenth-century America. It is continually lauded as one of the top ten buildings in America.
Boston Public Library
The wonderful Boston Public Library is located on another corner of Copley Square. Opened in 1895, it was the first publicly-supported municipal library in America. The architect was Charles F. McKim of the famed architectural firm of McKim, Mead, and White. It was the first library to include a children's room. The facade is meant to resemble an Italian palazzo, specifically modeled after one in Rimini. This public facility houses the personal library of President John Adams.
John Hancock Buildings
Also overlooking the square are the three John Hancock Insurance buildings. The old John Hancock Building, now called the Berkeley Building, was, for several decades, the second-tallest building in Boston, standing at 26 stories in height.
The John Hancock Tower, designed by Chinese architect I.M. Pei, is currently the tallest building in New England, at 791 feet and 60 stories high. It is a modernist glass, monolith skyscraper and each bay of each floor is a single pane of glass. The highly-reflective glass is tinted blue. The building had its share of architectural problems, including falling glass panes and swaying upper floors, but all has been solved. There is a wonderful observation deck at the top of the tower, but it has been closed since September 11, 2001.
The third Hancock structure is known as Stephen L. Brown Building, built in 1922. Though not as historically significant as the other two buildings, this one is still quite lovely to view, with its grand pillared facade.