Boston's Old South Meeting House truly played an important role in the birth of the United States of America. After more than 275 years, this historic site still remains a central community meeting house and a fascinating part of Boston's past and present.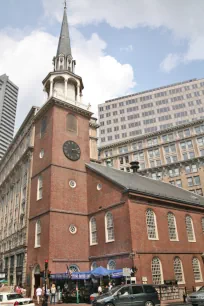 History of Old South
Old South Meeting House was built in 1729 as a Puritan place of worship. From the start, famous names gathered here, including patriot Samuel Adams and African-American poet Phyllis Wheatley. At that time, it was the largest building in Boston and due to that fact it was often used for large public meetings as well as church services.
The most auspicious event that ever took place at Old South was a meeting of 5,000 patriot men in December 1773. The gentlemen gathered to discuss the controversial British tea tax. The meeting ended that evening with the order to initiate what we all know as the Boston Tea Party. The rest – as they say – is history.
Saved from Demolition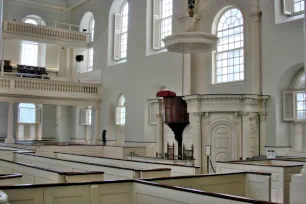 During the Revolutionary War, British soldiers turned the meeting house into a riding school and destroyed the interior. It was later restored and remained a church until 1872. It was saved from the wrecking ball by concerned Bostonians who recognized it as a great historic site. Records show that it was the very first time that a public building was saved because of its association with nationally important historical events.
Through the early twentieth century, it remained a place where controversial speakers could be given a platform and was an important forum for public debate.
Today at Old South Meeting House
As a stop on the Old Freedom Trail, tens of thousands of guests visit the meeting house each year. Inside, you'll find an interactive exhibit entitled "Voices of Protest", which profiles the history of Old South Meeting House as a place where everyone could be heard, regardless of their political, religious, or social stance.
An audio exhibit, "If these Walls Could Speak", outlines the historical events that took place at Old South, from the Tea Party meeting until the mid 1850s, when it was saved from demolition.
A number of special events are also held here on a monthly basis, including presentations by visiting authors, book signings, historical lectures, and performances.