A building that's caused plenty of controversy, Boston's "new" City Hall, houses the municipal government of the city.
Old City Hall
The current City Hall of Boston was built between 1963 and 1968, replacing a grand old structure that was completed in 1865. This Second Empire style building, now known as 'Old City Hall', was converted into an office building after the municipal government moved to the new complex in 1969.
Love It or Hate It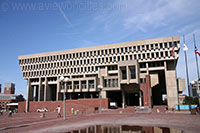 City Hall
The newer building – part of a Government Center Master Plan by I.M. Pei and Partners – was the result of a contest to find the best design, which garnered entries from about 250 architects. The winning design belonged to Gerhard M. Kallmann, Noel M. McKinnell, and Edward F. Knowles, three Columbia University professors.
These architects went with a "Brutalist" design, which is taken from the French for "raw concrete" (Béton brut). Buildings done in this style tend to have exteriors with repeated geometric figures and concrete often reveals the texture of the wooden forms used for the in-situ casting. From the moment the design was released, it evoked lots of emotion – some loved it, others thought it was atrocious.
The Design
Boston's City Hall is divided into three sections. The lowest section is faced with brick and is partially built into a hillside. This is the part of the building that is open to the public and the designers decided to use earth-tone materials to stress the public access, they say. Besides brick, this portion of the building also includes materials such as quarry tile and exposed concrete. A courtyard once connected the fourth floor with the exterior, but it is now closed due to security concerns.
Detail
The middle portion houses the public officials such as the Mayor, and the designers chose to allow the protrusion of various interior spaces on the outside in order to stress the connection between the public and these elected officials. The irregular pattern found in this middle section contrasts with the regularity of the patterns found in the upper and lower portions of City Hall. The upper stories look much like a standard office building, with windows placed in standardized patterns.
The expressionist, even Brutalist design of the city hall has been a source of inspiration for the design of many other Brutalist buildings during the 1960s and 1970s across the country and even abroad.
While the building has been lauded by many in the architectural field, workers and city officials complain that it is expensive to heat and that the floor plan is very confusing to those who visit or work at City Hall. At one point, a replacement for this modernist building was being considered. A group of architects and preservationists, however, are fighting to get landmark status for the building so that it can not be demolished.