A complex of several buildings featuring an abundance of shops and restaurants, the Prudential Center has taken its place as a Boston landmark and a tourist must-see.
About the Center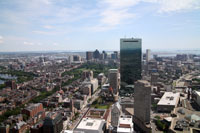 View from Prudential Tower
The impressive Prudential Center is a complex of buildings that occupy most of the space between Boylston Street and Huntington Avenue, two blocks west of the Boston Library. The center has been controversial ever since its conception in 1959 as one of Boston's first urban renewal projects. Many still haven't come to terms with the heavy mass of the high-rise complex towering over Back Bay.
Prudential Tower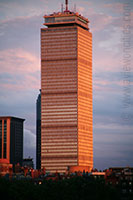 Prudential Tower
The centerpiece of the complex is the Prudential Tower, which opened in 1965 and stands 52 stories tall. For eleven years, until the John Hancock Tower was built, the Prudential Tower was the tallest in the city and also the tallest outside New York.
It contains some 4,000 windows and nearly half-a-million square feet of office space. On the 50th floor of the Prudential Tower is the Boston Skywalk Observatory, a popular tourist attraction that provides a 360 degree view of the city and surrounding areas.
111 Huntington Avenue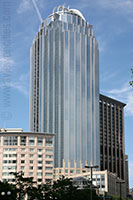 111 Huntington Av.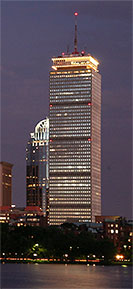 The buildings at night
The attractive 36-story building known as 111 Huntington Avenue is a recent addition to the Prudential Center complex. Opened in 2002, it was the tallest building completed in the city since 1987 and houses dozens of offices. The frame dome and crown atop the building has prompted the nickname "The R2-D2 building" because of its resemblance to the Star Wars robot.
Other Buildings
The complex is also home to a few additional office buildings, some apartment buildings, the Sheraton Boston Hotel and the Residences at the Mandarin Oriental.
In all, Prudential Center boasts 3.2 million square feet (300,000 sq m) of mixed use space, including more than 600,000 square feet set aside for retail establishments.
Shopping
The retail component of the Prudential Center is anchored by two upscale department stores – Saks Fifth Avenue and Lord and Taylor. An additional 75 stores and restaurants can be found inside this urban mall. More than 60,000 locals and tourists make their way each day through this shopping area – consistently ranked as one of the top five shopping centers in the U.S.