The oldest house in downtown Boston was occupied by one of Boston's most famous patriots, Paul Revere. The wooden house in early colonial style was built in 1680 by a wealthy merchant, Robert Howard.
History of the Revere House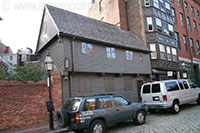 Paul Revere, a renowned silversmith, bought the two-story house in 1770. Revere is remembered most for his 'midnight ride' which started from this house.
In 1775, Paul Revere worked as an express rider to carry messages and news. On April 18 that year, he was sent out to warn Samuel Adams and John Hancock of the British' troops march on Concord, where guns and ammunition were hidden. This ride was later immortalized in Henry Wadsworth Longfellow's poem "Paul Revere's Ride". Paul Revere was arrested by a British patrol on his way from Lexington to Concord, but was released in time to witness the battle in Lexington.
The house was sold by Paul Revere in 1800 and was later used as a tenement, a cigar factory, a candy store and a grocery store. To save the building from demolition, Paul Revere's grandson, John Reynolds, Jr. bought the house in 1902. From 1907 to 1908 the building was restored by the newly founded Paul Revere Memorial Association with the help of architect Joseph Chandler. In April 1908, the Paul Revere House opened as one of the first historic house museums. To this day, the Paul Revere Memorial Association continues to maintain the building, now a national historic landmark.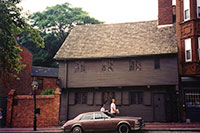 The House Today
The building was restored to resemble its seventeenth-century appearance; most of the building's materials are original. The interior shows colonial furniture, artifacts, historic documents and exhibits of Paul Revere's silverware. Tours of the building are self-guided, but text panels and staff members help you with any questions you have.
The Paul Revere House is located at 19 North Square in Boston's North End.