The High Line is a 1.45 miles (2.33 km.) long elevated park, 30 feet (9 m.) above the ground. It was originally built in the 1930s as an elevated railroad along the West Side of Manhattan.
An Elevated Railroad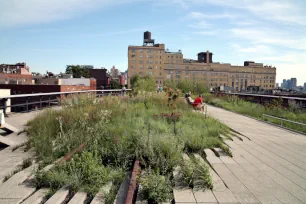 In the 1860s, a railroad was built along the sparsely populated west side of Manhattan, known as the West Side Line. By the 1930s, however, traffic had increased to such an extent that the railroad had become a safety concern.
So in 1934 a mile and a half long part of the track – 22 blocks from Gansevoort Street to 34th street – was elevated 30 feet (9 m.) and became known as the High Line. The tracks were used by freight trains, which could go straight into the warehouses in the Meatpacking and Chelsea districts. After the trains stopped using the tracks in 1980, the railroad started to fall in disrepair, and wild plants quickly covered the tracks.
A New Park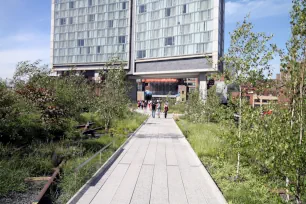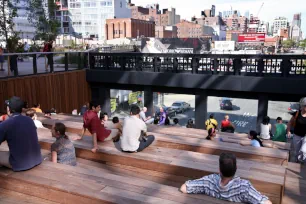 At the end of the 1990s, when the High Line was already slated for demolition, the idea of turning the railroad into a park – similar to Paris's Promenade Plantée which had opened a decade earlier – was proposed by a group of local residents. They succeeded in overturning a demolition order and convinced the city to support their idea of a 'park in the sky'.
In 2006 the conversion of the elevated railroad into a park was started after a design by architects Diller Scofidio + Renfro and landscape architects James Corner Field Operations. The first section of the High Line, from Gansevoort Street in the Meatpacking District up to 20th Street in Chelsea, opened in June 2009; a second section opened two years later and the final section up to 34th street opened on September 21, 2014.
The High Line Park
The High Line is now an elevated green way which can be reached by elevators or stairs about every two blocks. Walking along the beautifully landscaped park is an almost serene experience as you are three stories above the bustling city. And thanks to the low-rise buildings in the area, you have a great view over the neighborhood.
The landscaping often refers to the High Line's railroad past, with stretches of steel tracks still in place and concrete slabs shaped in the form of rails. The route even leads through buildings where trains used to deliver their cargo. Along a central path are flower beds, often with wild grasses similar to those that used to overgrow the tracks after the railroad was abandoned. There are plenty of benches and even a series of steps from where you have a view over 10th Avenue.