Also sometimes referred to as the Coulée Verte, Promenade Plantée is an elevated park that was constructed in 1994 on an abandoned nineteenth-century railway viaduct.
The Bastille Railway Line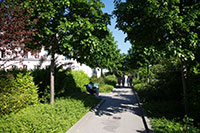 Promenade Plantée
In 1859, a new railway line was opened, connecting Paris with Strasbourg. At the center of Paris, starting at its terminus at the Place de la Bastille, the railroad was elevated and built on a viaduct known as the Viaduc de la Bastille.
The elevated railroad, dubbed the Bastille Railway Line, traversed the city's 12th arrondissement and measured several kilometers long. The railroad was eventually abandoned in 1969.
Conversion into a Promenade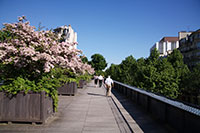 A bridge on the promenade
The first plans to convert the abandoned railroad into a promenade were proposed in 1983. Construction started in 1988 and the first part of the route opened just one year later, in 1989. The whole route was completed in 1994. The promenade now runs from the Bastille Opera to the eastern city limits and sits at the approximate level of the third story of a building.
The Promenade Plantée was designed by landscape architect Jacques Vergely and architect Philippe Mathieux. Along the high-level walk, the architects chose a garden environment for pedestrians who choose to walk along the old viaduct. This raised route has both enclosed sections as it passes between modern buildings, and open sections that offer excellent views of the city.
The Promenade Plantée was the first elevated park in the world but has since been copied by other cities such as New York, which opened its High Line park in 2009.
The Viaduc des Arts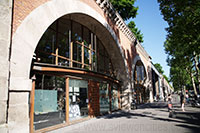 Viaduc des Arts
At the same time the Promenade Plantée was created, the viaduct on top of which the railroad is situated was also renovated and renamed Viaduc des Arts.
The arcades were reconverted into shops, galleries and crafts workshops. These exhibition spaces house makers of musical instruments, cabinetmakers, textile restorers, fashion designers, and other artists. In total, there are about fifty artisans displaying their wares at the Viaduc des Arts. Coffee shops and small cafés and restaurants are also located there, allowing for visitors to enjoy a meal while browsing.
Stairways lead from the Viaduc des Arts up to the promenade, so visitors can switch from one to the other when desired. The Promenade is easily reached by Metro, with the Bastille station at one end and the Montgallet or Dugommier stations at the other.