A combination park, underground mall, and huge subway station, the Forum des Halles sits on land that for centuries was home to Paris's central marketplace.
The Market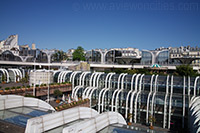 Forum des Halles
For 800 years, the area known as Les Halles was a central gathering place for all Parisians. From about 1200 until the 1500s, this marketplace included all sorts of businesses. Later, food was the specialty here. Author Émile Zola once called it "the underbelly of Paris".
As Paris grew and became more and more crowded, the hundreds of stalls in the marketplace Halles became a logistical problem, causing both pedestrian and auto traffic jams. In the late 1960s, the city decided to move the stalls to a suburban area known as Rungis, near Paris' Orly Airport.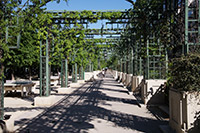 Pergola
The Forum
Once the area was vacated, the congestion was relieved, but Parisians were appalled at what was left – a big, empty, unsightly hole in the ground. During this time, the area gained the nickname "le trou des Halles" – literally, the hole of the Halles.
In 1979, the city decided to fill in the hole. The controversial design of the Forum, which opened in 1986, was created by the French architects Claude Visconi – who designed the underground section – and Jean Willerval, who was responsible for the ground level design.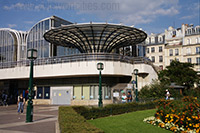 Willerval's 'Umbrella'
What visitors will now find at the sight of the old meat, fruit, and vegetable market is a pretty park located on ground level, a large underground shopping mall filled with stores, restaurants, discotheques, museums and movie theaters, and below that, the world's largest underground subway station.
Carreau des Halles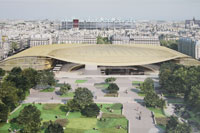 Rendering of the Canopy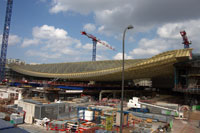 The canopy under construction
After several decades, though, the area had been slowly declining; at night the area could feel unsafe and with stores leaving the mall, the city of Paris decided to hold a competition to renovate the area. In 2007 a design by French architects Patrick Berger and Jacques Anziutti was chosen as a model for a complete overhaul of the forum. The project, known as La Canopé (the canopy) consisted of a green space adjacent to a translucent awning covering the underground entrances. The awning was officially opened to the public on April 5, 2016.
Visiting Forum des Halles
The Forum is centrally located in Paris's first arrondissement, close to major attractions such as the Louvre and Centre Pompidou. It is well-connected to the underground system, with Les Halles as the nearest metro station. Underground corridors connect the station to lines 1, 4, 7, 11 and 14.