A National Historic Site since 1939, Federal Hall is probably the finest Greek Revival building in New York City.
The Early Days of Federal Hall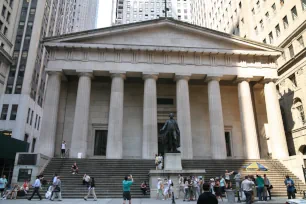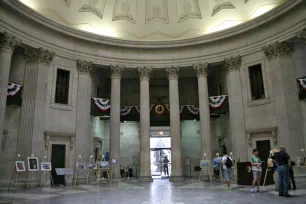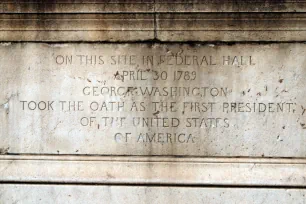 Situated at 26 Wall Street, the original structure known as Federal Hall was built in 1700 to house New York's City Hall. During the turbulent years before the American Revolution, the building was the location for many historic events. After the Revolution, the 1st Congress met at Federal Hall, and the new governing body was responsible for passing many important laws and acts at that location. In addition, George Washington was inaugurated at Federal Hall in 1789.
That same year, the building was enlarged according to a design by Charles Pierre L'Enfant, the man responsible for designing the city of Washington D.C. His creation was the first example of Federal style architecture in the U.S. When New York became the first capital of the United States under the Constitution in 1789, it was renamed Federal Hall.
A New Building
In 1790, the capital of the U.S. was moved to Philadelphia and Federal Hall was then used to house local New York government offices. However, by 1812, the city decided to tear down Federal Hall and replace it with a new structure.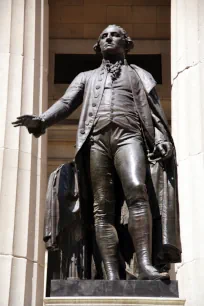 The new building, the one that still stands today, was built in the classical style and is considered one of the best examples of this type of architecture still standing in Manhattan. Designed by Ithiel Town and Alexander Jackson Davis, it features regal Doric columns meant to resemble the Parthenon and the ideals of Greek democracy. The domed ceiling, designed by John Frazee, is also designed after that of the same famous Greek monument.
In addition, a large bronze statue of George Washington stands on the front steps, marking the place where he was inaugurated. The statue was created in 1883 by John Quincy Adams Ward and depicts Washington raising his hand from the bible.
Currently, the National Park Service operates Federal Hall as a museum. Exhibits include displays about the famous inauguration and another which centers on freedom of the press, linked to an early incident that occurred at the site. The museum is open on weekdays.