Central Park's Grand Army Plaza is one of two in New York City with the same name. The other – more impressive, but less touristy – is near Brooklyn's Prospect Park.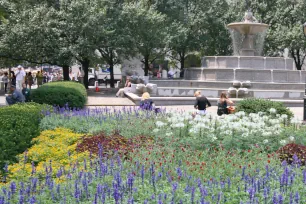 Situated on Fifth Avenue at 59th Street, Manhattan's Grand Army Plaza was completed in 1916. This plaza bears the moniker "grand" not because of its size. It is, in fact, named for the Grand Army of the Potomac, which was the name given to the Union Army during the American Civil War.
The oval-shaped plaza is bisected by 59th Street. The southern part of the plaza is squeezed in between the Plaza Hotel and the General Motors Building. The northern part is actually a cutout of Central Park.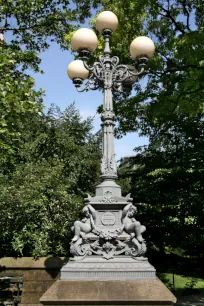 Northern Part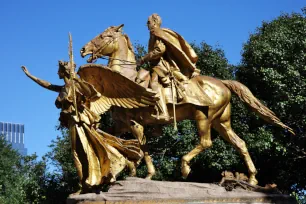 On the northern half of the oval, visitors will view a gilded bronze statue of the man credited for ending the Civil War, General William Tecumseh Sherman. The monument was fashioned by the American sculptor Augustus Saint-Gaudens and was modeled from a portrait of the general. The general is preceded by an allegorical figure representing peace. Saint-Gaudens worked eleven years on the sculpture, which was dedicated in 1903. It was his last major work.
At the edge of the northern half of the plaza, on the border with Central Park, visitors will find the Lombard Lamp. This lamp was modeled after the lamps that grace the Lombard Bridge in Hamburg, Germany, and was a gift of the city of Hamburg in 1979. Its base includes ornamental cherubs, garlands, and other intricate features.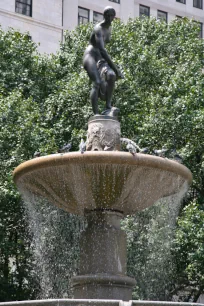 Southern Part
On the southern half of the plaza is the Pulitzer Memorial Fountain, a gift of the Pulitzer publishing family. At the request of Joseph Pulitzer, the fountain was modeled after those installed at the Place de la Concorde in Paris.
At the high point of the fountain is a statue of the Roman goddess of fruit trees, gardens, and orchards, Pomona. She personifies abundance, a nod to the fact that New York City was growing in leaps and bounds at the time of the fountain's installation. On a balustrade along the fountain are two winged rams, each with a cornucopia, another symbol of abundance. The fountain was designed by Karl Bitter and erected in 1916.
In springtime, the Grand Army Plaza, Manhattan is resplendent with the blooms of the Bradford Callery pear trees that line the plaza. Tulips also bloom into the summer months.