Built to commemorate the famous Battle of Bunker Hill, the obelisk that serves as a monument to fallen Revolutionary War soldiers isn't located on Bunker Hill at all!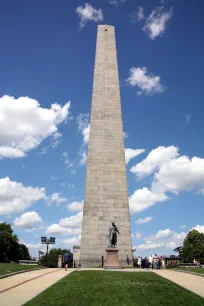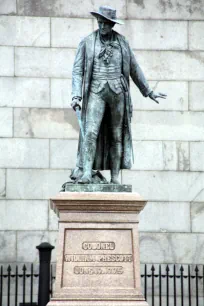 Battle of Bunker Hill
The Battle of Bunker Hill was fought on June 17, 1775. At that time, the colonial army was new and inexperienced and faced a formidable opponent in the British Army. Led by Colonel William Prescott, Colonel John Stark and General Israel Putnam, the army of colonists put up a strong fight, wounding or killing nearly half of the 2,200 British who were determined to defeat them. Nonetheless, the colonial revolutionaries lost the battle, but the fight they staged was to be long remembered.
The Battle is often associated with a famous phrase uttered by Colonel William Prescott, a native from Groton, Massachusetts. His command, "Don't fire until you see the whites of their eyes!" is one of the most famous quotes associated with the Revolutionary War.
The Battle of Bunker Hill is actually a misnomer. During the skirmish, the majority of the fighting took place on nearby Breed's Hill, which is why the monument was built there rather than on Bunker Hill.
About the Monument
The obelisk that marks the site of the Battle of Bunker Hill was the first obelisk built in America. The cornerstone of the monument was laid in 1825 but it took seventeen years to build the 221 foot (67 meter) granite monument because the supporters of the project kept running out of funds. As a matter of fact, the monument committee had to eventually sell 10 of the 15 acres they had purchased for the monument in order to complete its construction.
Finally completed in 1842, a commercial railway – the first in the U.S. – was built specifically to carry granite to the site of the monument. When it opened to the public on July 17th, 1843, famous U.S. orator Daniel Webster gave the dedication speech. The monument was the tallest in the U.S. until the Washington Monument topped out in 1884.
In 1881 a statue honoring Colonel Prescott was placed in front of the obelisk. The statue, created by American sculptor William Wetmore Story, depicts the colonel at the moment right before he gave the command to fire.
Since 1976, care of the monument has been overseen by the U.S. National Park Service and the site is a stop along Boston's Freedom Trail and is part of Boston National Historic Park.
There is no elevator in the obelisk, so to get to the top, visitors must climb 294 steps. Those who climb all the way to the top are rewarded with great views of Boston.