For more than two centuries, Quincy Market has been one of the social centers of life in Boston. Today, it is one of the city's main tourist magnets.
Its History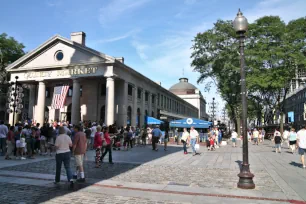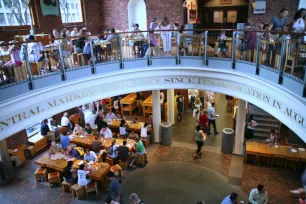 Boston's first public market, Faneuil Hall – adjacent to the site where Quincy Market now stands – was built in 1742, when the colony of Boston was still young. As a wholesale market, the building quickly became a gathering place for America's early citizens. But lots more than shopping took place at this site. It was here that patriots like Sam Adams gathered to thrill the crowds with their anti-England rhetoric, further fueling the spirit of freedom.
In the 1800s, Quincy Marketplace was added, providing more space for residents of the burgeoning city to shop. Designed by Alexander Parris, the market was built on landfill on a spot that was once a part of the harbor. Six new streets were added to accommodate the market traffic.
In the beginning, Quincy Market sold mostly produce, eggs, cheese, and bread. Meat vendors came shortly thereafter, and butchering work was often done on site.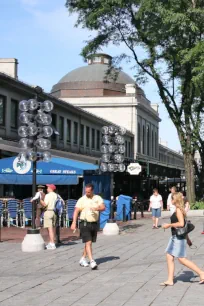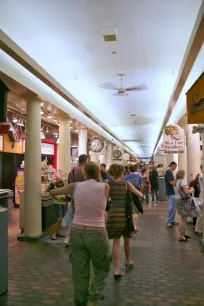 About the Building
Quincy Market is two stories tall and covers about 27,000 square feet (2500 sq. m.). Fashioned from New England granite, the building is 535 feet (163 m) long and boasts red brick interior walls. The marketplace represents the first large-scale use of granite and glass in post-and-beam construction.
The east and west facades feature Doric columns and are Roman in style. There's a long hallway down the center of the rectangular building, and a large copper-covered dome in the center of the roof covers an open seating area as well as the main side entrances.
Today's Quincy Market
Quincy Market remains one of Boston's most visited tourist attractions and is popular with those who work in the area as a great place for a quick but tasty lunch.
Seventeen restaurants and pubs can be found at the marketplace, including a few upscale restaurants and plenty of fast food.
Shoppers can enjoy more than one hundred stores and carts. Many peddle souvenirs and other trinkets, while others offer items by talented local artisans. You'll also find lots of apparel shops boasting recognizable names.
Entertainment at the restaurants and in the outdoor areas is common and can be enjoyed nearly all day long, especially on the weekends in the summer months.