Though not an official stop on Boston's Freedom Trail, the city's pretty Public Garden is located close to the trail and is a logical stop for those who want to do a little relaxing or spend some time strolling through the colorful flowers.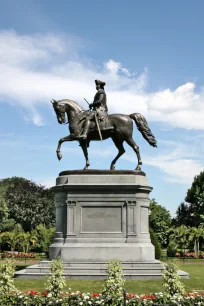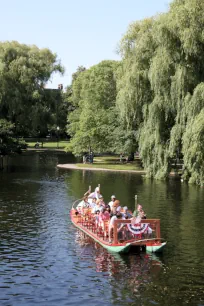 About the Garden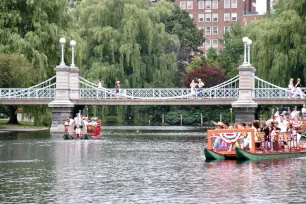 Established in 1837, this Boston landmark was the first botanical garden in the United States to be open to the public. In order to develop the 24 acres of marshland allotted for the garden, the city held a competition to determine who would create the design. George V. Meacham won first prize and his design was implemented, though over the years many changes have been made to the garden. The initial design, however, has been preserved as much as possible.
The garden is open all year long, though you'll find the most colorful array of flowers from April through October. A fine variety of public art is on display at the Public Garden as well, including an excellent statue of George Washington and a whimsical favorite entitled Make Way for Ducklings, a tribute to the children's story of the same name by author Robert McCloskey. The statues of the main character, Mrs. Mallard, and her eight sweet little ducklings have been delighting children for decades.
The Swan Boats
The centerpiece and most famous feature of the Boston Public Garden are the Swan Boats. Operating since 1877, the Swan Boats traverse the gentle lagoon at the garden. The boats were originally designed to hold only 8 passengers, but as the popularity of the 15-minute boat ride increased, boats were expanded and now carry 20 visitors. Descendants of the man who launched the first boat, Robert Paget, still operate the attraction today.
It is said that Bostonians mark the coming of spring according to the arrival of the Swan Boats, which use a pedal-powered propulsion system and operate from April through Labor Day. Tickets may be purchased in advance and can be used at any time during the season.