The dreams of an Irish immigrant who came to Canada more than 150 years ago have resulted in one of the most-visited retail establishments in the country, Toronto's Eaton Centre.
Eaton History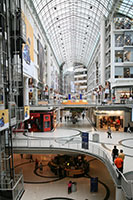 Eaton Centre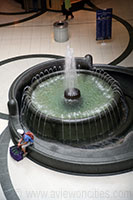 Fountain
Timothy Eaton arrived in Canada from Northern Ireland in 1854, and by 1869, he had already built his first store. Less than fifteen years later, his business had grown so much that Eaton decided to build his four-story flagship store at the intersection of Queen and Yonge Streets in the downtown area.
In the 1960s, the Eaton organization decided to join with TD Bank and Fairview in hopes of creating a colossal retail mall known as Eaton Centre. The centre, however, didn't take shape until the late 1970s due to opposition against the original plans, which would have resulted in the demolition of the Old City Hall and the Church of the Holy Trinity. In 1977, the northern section was completed, and two years later, the original southern section opened. In 1990 and 1999, two additions were made. The Eaton Centre is now six stories tall, and the structure currently boasts more than 330 stores and restaurants.
The architect, Eb Zeilder, decided to model the mall after Milan's Galleria Vittorio Emanuele, which is similarly designed with a glass-domed ceiling that runs the length of the centre.
Though Eaton filed for bankruptcy in 1999, the centre didn't change names, even though the chain's assets were assumed by Sears Canada. Today, Eaton Centre attracts approximately fifty million visitors a year. Approximately a quarter of those millions are tourists.
What's There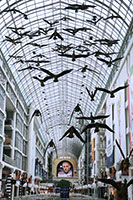 Galleria
Serious shoppers can literally find just about anything they might be searching for at the Eaton Centre. From fashionable men's and lady's apparel to stores touting housewares, electronics, books, jewelry, and more, the selection of shops in Eaton Centre is among the best in the world.
You'll also find about forty fast food restaurants and a handful of sit-down eateries. You'll never be far from an ATM, as Eaton Centre boasts more than a dozen of them.