The third of Toronto's City Halls, the building now known as Old City Hall, is a spectacular showcase of fine architecture and a tribute to the city's rich history.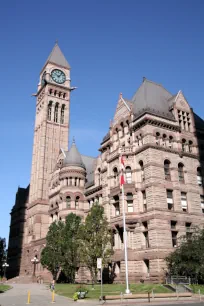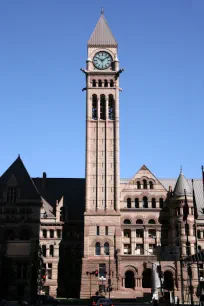 Building the Third City Hall
In the late 1880s, Toronto civic officials deemed their current City Hall too small for the growing municipality. They secured the services of architect Edward James Lennox to design a new building with two uses – a city hall and a courthouse. Lennox took nearly three years (1886-1888) to create a design that was pleasing to everyone, and construction on the new facility began in 1889.
Construction of the $2.5 million building was completed in 1899. At the time of its completion, it was the largest building in Toronto, as well as the largest civic building in North America.
About the Building
Because the basement walls are extremely thick and the footings massive, historians say that progress on the building was quite slow. As a matter of fact, it took six years to build the first five stories!
The attention to detail on the exterior and interior of the Romanesque Revival building was probably another reason for the slow progress. Expert stonemason Arthur Tennison oversaw the placement of the many gargoyles that grace the building. The gargoyles are rumored to be then-council members, and one is said to be the face of architect Edward James Lennox.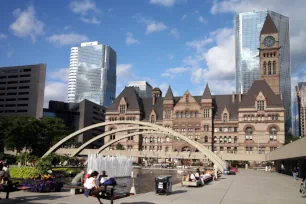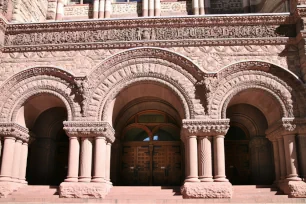 There were also two large five-foot high "grotesques" located at the foot of the main staircase and fashioned from wrought iron. Each was in the form of a griffin. (These were removed in 1947, but returned for the centennial celebration of the Old City Hall in 1999.)
In addition, there's a beautiful clock tower that soars 300 feet (103.6 meters) into the air, home to a gigantic bell known as Big Ben, weighing in at more than 11,000 pounds (5,443 kg)!
The inside is quite grand as well, with marble walls and mosaic floors. Lennox himself fashioned ornate tables, handrails, and doorknobs, and spectacular stained-glass windows were produced by artist Robert McCausland. Murals by George A. Reid flank the entrance doors.
Visiting Old City Hall
Set for demolition when Eaton Centre was built, a group of concerned citizens fought to save the old building, which became a National Historic Site in 1989. Visitors can enjoy an exhibit about the preservation of Old City Hall and its history on the first floor of the structure.