Built in the 1960s, the present Toronto City Hall is a spectacle of modern architecture, soaring high into the Toronto sky.
The Design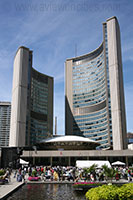 Toronto City Hall
The design for Toronto's City Hall was chosen from many entries submitted to a 1957 design contest, which was sponsored by the city in order to find a suitable replacement for the previous city hall, which they had outgrown. The winner was Finnish architect Viljo Revell, whose design was eventually completed in 1965. (Unfortunately, Revell died before he was able to see his design come to fruition.)
The complex consists of a short round building surrounded by two semicircular tall buildings. It is said that Revell envisioned it as an eye; the center building was the pupil, with the two side buildings being the upper and lower eyelids. Some affectionately refer to the center building as "the UFO" or "the burrito".
What You'll See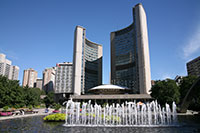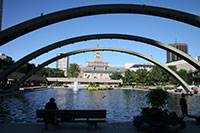 Nathan Phillips Square
On the first floor of the main building, you'll find The Hall of Memories. This is a scale model of the city showing attractions and upcoming changes to the area. A book of remembrance in the Hall of Memory honors Toronto's war dead. The same building houses David Partridge's Metropolis, a fascinating mural fashioned entirely from nails.
Mostly, however, you'll find the offices of the city government, including that of the mayor and the council members. You can even peek in on the goings-on here at particular times when proceedings are open to the public.
Nathan Phillips Square
Pretty Nathan Phillips Square is located in front of City Hall. Flower gardens and sparkling fountains decorate the square during the summer months, and in the winter, snow bunnies can ice skate in the reflecting pool.